A Grand Reopening
---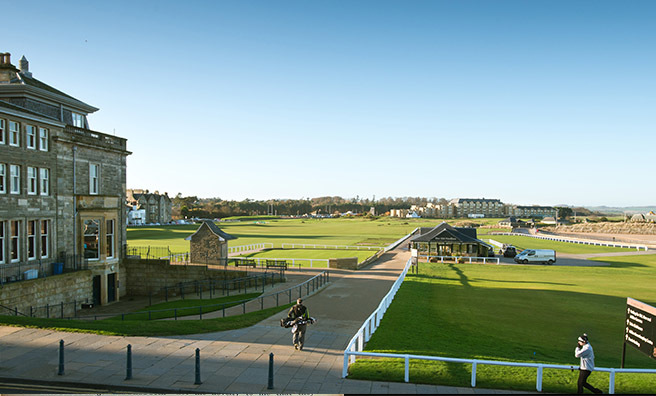 It's Golf Week at St Andrews!
After a 12-month closure, the transformation of the British Golf Museum in St Andrews is complete and ready for viewing
Richard Murphy Architects have been working on the building for the past year, and have designed a new 80-seat café on the Museum roof with great views over the Old Course – and just in time for The Open!
The new café takes in the 1st tee of the Old Course in an ideal position for the 144th Open, which comes to St Andrews on 12th July.
"The orientation of the café has been key to the design," said Bill Black, Director at Richard Murphy Architects. "It maximises the views across the Old Course for the café visitors, whilst leaving uninterrupted views to the beach beyond for the adjacent existing buildings at the edge of the town."
A new chapter in the museum's history
Edinburgh-based company, Campbell & Co. have re-designed some of the museum's galleries, to introduce a more contemporary feel and interactive focus to the British Golf Museum.
A special exhibition has been installed, highlighting the career of five-time winner, Tom Watson, and featuring memorabilia donated to the museum by the American legend, himself.
"The café, the re-designed galleries and shop herald a new chapter in the Museum's history," Angela Howe, Museum & Heritage Director commented, "and we are excited by the direction we are going in."
Our July issue is an Open special so for more on the championship, the course and St Andrews pick up a copy in shops now, or online!
Subscribe today and receive a free set of Scots Magazine golf balls.
---
More…
"I wanted to say farewell to St Andrews…"
Read about Tom Watson's incredible career in our latest interview with the legend here, before he plays the Old Course for the last time.