Burns Night Cullen Skink
---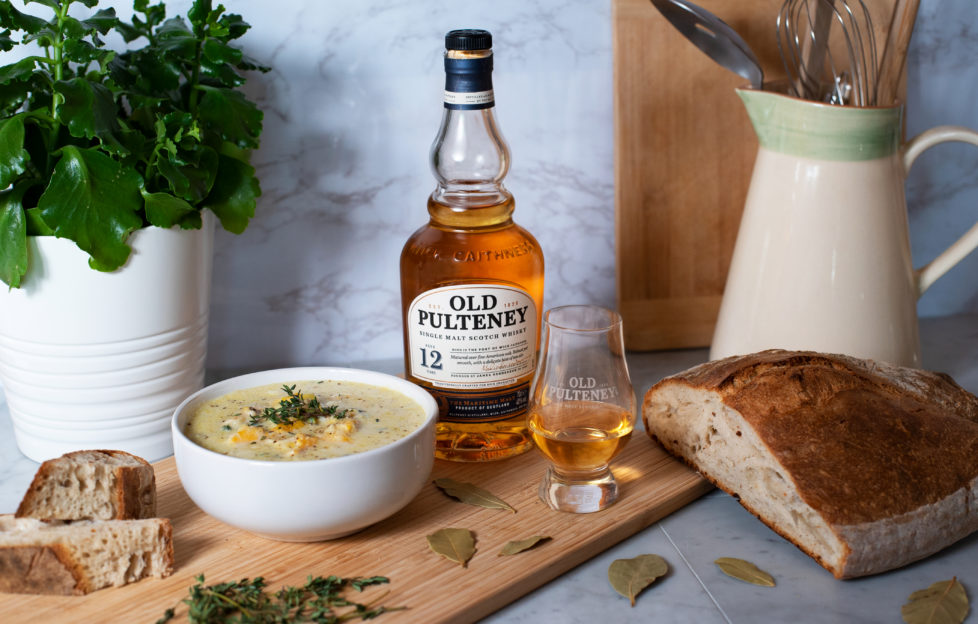 Ingredients
1 small leek (white part only) thinly sliced
30g butter
450g floury potatoes, peeled
300mls vegetable stock
450mls full fat milk
1 bayleaf
1 tsp thyme leaves
450g un-dyed smoked haddock, pin-boned and skinned
4 tbsp double cream (optional)
Salt and freshly ground black pepper
1 – 2 tbsp Old Pulteney Single Malt Scotch Whisky
Credit: CJ Jackson
A comfortingly creamy Cullen Skink with the indulgent addition of Old Pulteney
, single malt whisky. Perfect for celebrating Burns Night at home this year!
Hailing from the northerly Scottish coastal town of Wick, this unashamedly excellent single malt marries together the briny notes from the sea with the influence of ex-bourbon American oak casks, making it the perfect addition to the humble Cullen Skink. 
There are many versions of Cullen Skink – the well-loved Scottish soup from Cullen (Skink meaning soup) containing potatoes, fish and milk. It is hearty and a meal all of its own. Old Pulteney's signature briny note is a perfect addition to the smoky soup, adding a subtle top note and elevating the dish for the perfect Burns Night meal.
Prep time: 15 mins
Cooking time: 20 mins
Method
Wash the leek thoroughly and pat dry. Heat the butter in a large saucepan. Add the leek and 'sweat' in the butter over a low heat for 3 – 4 minutes.
Meanwhile, dice the potatoes evenly into 1cm cubes. Stir into the leek and soften for a couple of minutes. Add the vegetable stock and simmer for 6 – 7 minutes or until the potatoes are beginning to soften and then blend in the milk and herbs, bring the pack to a slow simmer. Break up the potatoes a little with the back of a fork to crush not mash.
Cut the fish into 2 – 3 cm chunks and stir carefully into the soup. Poach over a low heat until the fish is just cooked. Avoid stirring to prevent breaking the fish up too much. Season to taste with salt and freshly ground black pepper.
To serve, stir in the double cream and bring back up to a boiling point. Pour into a large soup tureen or deep serving dish.
Heat the whisky in a soup ladle over a gas flame. Tilt the bowl of the ladle to ignite the whisky and pour – flaming – over the soup at the table immediately. Tuck in and enjoy with more Old Pulteney Single Malt Scotch Whisky to bring out the maritime aromas of the sea.
This recipe was

created by esteemed chef CJ Jackson.