Ten Things You Cannae Miss… May 22 – 28
---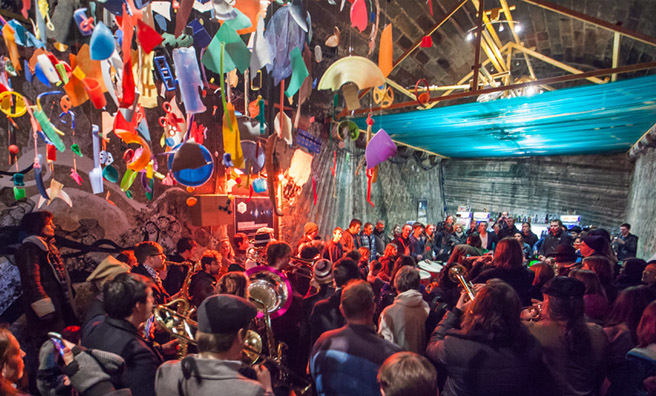 Our team have swept the length and breadth of Scotland to find you the most vibrant, most unusual and most unmissable events on offer this weekend, and in the coming week . . .
Spring Fling
Over Saturday, May 23 & Sunday, May 24, visitors are welcomed to Dumfries & Galloway, where 94 specially selected Artists and Makers will open their doors to showcase the work they produce. A map and brochure of events with handy directions can be purchased from any of the included venues or online.
Behind Hidden Doors
Hidden Door have transformed the Old Streetlighting Depot into an imaginitive venue for their art festival. It opens Friday, May 22 for a week-long programme, and a definite highlight is DECAGRAM on Monday, May 25 – musicians, film makers and artists who will also be launching their own beer!
The Great Scottish Boat Race
Taking place on Saturday, May 23, on the River Clyde is the third oldest boat race in the world. Teams from Glasgow and Edinburgh Universities will race to a grandstand finish at the Riverside Museum, where spectators are welcome. Food stalls onhand, too – more information, here.
Borders Bogie
If rowing isn't your spectator sport then don't fret: an entirely different race is afoot in the Denholm. The Borders Bogie Challenge is on Saturday, May 23, where daredevils will race in home-made bogies (or go-karts for non-Scots). Denholm May Fair is on on the same day, so there will be plenty of entertainment and refreshments.
All Things Katie Morag
An Lanntair Art Gallery in Stornoway is hosting a Katie Morag exhibition, allowing children and adults alike to immerse themselves in the characters, sets and locations of one of Scotland's most loved literary and TV creations. The never-before-seen exhibition hosts original drawings are open from 10 am till late, Monday to Saturday.
Dr Jekyll & Mr Hyde
Acting duo Isosceles Theatre return to Pitlochry on Tuesday, May 26, with their thrilling adaptation of the chilling classic by Robert Louis Stevenson. Pop along to find out why this story has fascinated and enthralled audiences for over 100 years. Tickets £12.50, here.
Graduating Art
The Duncan of Jordanstone Art, Architecture and Design Show begins on Friday, May 22, with an exhibition preview from 6pm – 9pm. View the best exhibits from the college's graduating students – and all for free, including a glass or two of something nice on the Friday.
Snow White On Ice
The world famous Russian Ice Stars are coming to Inverness on Tuesday, May 26 for a magical take on one of the world's best-loved fairy-tales of all time. Featuring ballet, gymnastics and spectacular aerial aerobatics, the unmissable show will be at Eden Court until Sunday, May 31.
A Highlander Parade
The two-day Atholl Gathering takes place on May 23 & 24 at Blair Castle, with the Atholl Highlanders' Parade on Saturday followed by the Highland Games on Sunday with all the usual challenges, plus food stalls and exhibitions to boot. Look out for the Atholl Highlanders joining in the fun run on Sunday!
Fèis Ìle
The Islay Festival of Music and Malt does exactly what it says on the tin. From Friday, May 22, the whole island comes to life in a celebration of music, poetry, history, piping, food, and, of course, whisky. For more info on the distillery open days and event programme, click here.