Check Out Tartan Day Scotland Festival 2015!
---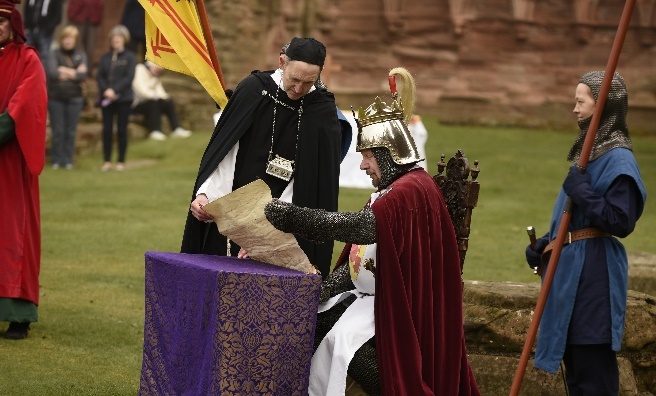 Actors recreate the signing. King Robert Bruce studies The Declaration of Arbroath, 2017
Every year, from 3-12 April, the county of Angus celebrates the Tartan Day Scotland Festival, which was inspired by The Signing of the Declaration of Arbroath within the walls of the town's mighty Abbey in 1320.
Events take place throughout Angus but we popped along to Arbroath Abbey on 6 April to take a look at what was happening there.
Within the mighty sandstone walls, a host of family and historical activities took place, including storytelling, tours of the abbey led by a Benedictine Monk, live music by Pictish drum and pipe band The Trybe and needlework demonstrations by the ladies of Scotland's medieval royal court.
Scotland's most famous document
At exactly 1320 that afternoon, we watched the unforgettable spectacle of King Robert The Bruce and his nobles signing the Declaration of Arbroath under the watchful eye of Abbot Bernard of Arbroath, thought to be the author of Scotland's most famous document.
And with the 700th anniversary of the Signing of The Declaration of Arbroath now only five years away, plans are underway for a spectacular celebration!
To find out more about Tartan Day Scotland 2015, click here.
For lots more ideas about places to go and things to do throughout Scotland, pick up a copy of this month's Scots Magazine. In the shops now or order online here.
---
Tartan Treasures Winners
The presentation of prizes to the winners of the Tartan Treasures competition on Friday, April 3, was an early highlight of this year's Tartan Day Scotland Festival.
Almost 160 entries were submitted, with were several from further afield, including India, Indonesia and Spain.
The finalists in the 16 & Over category were Suzanne Milne from Forfar, Karen Hill from Lancashire and Alex Mahon from Spain; while the finalists in the Under-16 category were Chloe Phillips from Broughty Ferry, Allie Moir from Montrose and Faith Petrie, also from Montrose. At the prizegving at Brechin Townhouse Museum, Suzanne Milne was named the winner of the 16 & Over category, with Faith Petrie winning the Under-16 category.
The finalists' diary entries can be read at www.tartandayscotland.com/treasures.