Coasting Around
---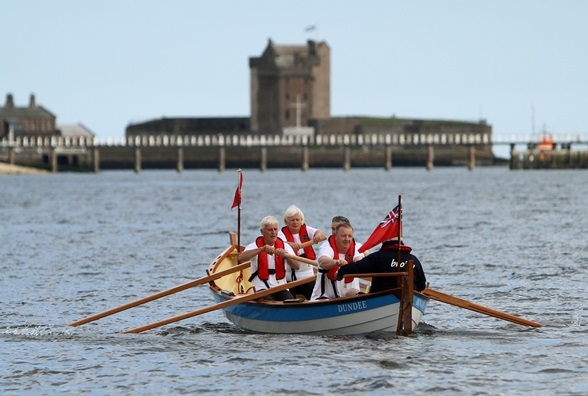 Out on the Tay for the Brochty's maiden voyage. Photo by Dougie Nicholson
The latest craze to hit Scottish waters is coastal rowing – and there's no ambiguity about its nature. It does exactly what it says on the tin!
The Scottish Coastal Rowing Association was formed in 2010 in the Scottish Fisheries Museum, Anstruther. Thus, the St Ayles Rowing Club was formed as part of a community project to bring together men and women of all ages – from 18 to 80 – with the aim of getting fit, getting to know folk and having a bit of fun along the way.
A crew consists of four rowers with an oar each, with a cox to ensure correct timing is kept and that all on board are safe.
Since then, the sport of boat-building and coastal rowing has grown in popularity and now there are 100 St Ayles skiffs in action around Scotland's shores with another 100 in various stages of completion. One of the most recent clubs to be formed is Broughty Ferry Boating, a new section of the Royal Tay Yacht Club, who recently launched their own skiff.
With that, Sam Miller's love of rowing of was re-kindled, as were memories of her days spent in Dunbar. "I first heard of coastal rowing or St Ayles skiffs when I lived in Dunbar, East Lothian," she says.
"They built a skiff a few years ago but it was something I never had an opportunity to try or get into due to my commuting! I would see the skiffs row out of the harbour every Sunday at 12noon, same time as coastguard training sessions, and always thought to myself, 'I'd love to give that ago'! But I never did. Well, not in Dunbar."
The chance to rectify this came when Sam and her husband moved to Broughty Ferry. Soon after joining the Royal Tay Yacht Club, they were informed that a St Ayles kit had been bought and volunteers were needed to build it.
"We both volunteered, although I was more involved in the organising and operational side of things!" says Sam.
It took around 800 hours to piece together the Brochty, which was launched in brilliant sunshine in August. Plans to build a second boat are afoot and it's hoped work will start in the next couple of months.
Not only did this venture raise the profile of rowing, it also revived the dying art of traditional boat manufacture and gave Broughty Ferry twins Ralph and John Knowles (67) the chance to show their skills. They have been at the helm of the community project that saw a flatpack of plywood and larch turn into the Brochty.
"I was not a newcomer to water as I sailed as a child," continues Sam, "but my husband, had no previous boating experience but that's certainly not stopped us. As soon as I got in the skiff and started rowing, I loved it. It felt so natural and very calming – even though the weather was not in our favour!
"My family say that rowing has taken over our lives and it probably has. It's so addictive – you just want to keep going out again and again.
"Anyone who looks at the boat and thinks 'I couldn't do that' should think again. Give it a go – you'll be surprised just how capable you are."
For more information go to www.scottishcoastalrowing.org