Afternoon Tea at Colonnades
---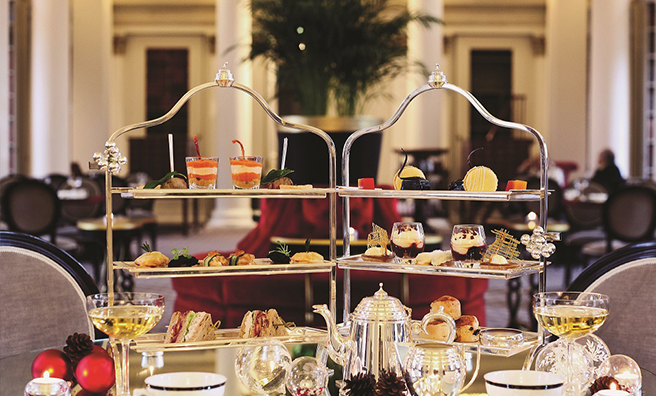 "Glass of champagne, sir?"
"Thanks very much. Don't mind if I do!"
  Even if it was only 4.30 on a wet and windy Edinburgh afternoon, it would have been churlish, not to say rude, to refuse.
Offering the Pommery was the Maître d' of Colonnades, the Signet Library's luxurious retreat from the madness and mayhem of Christmas shopping. Situated just of the Royal Mile behind St Giles, it's the place to go if you want some peace and quiet, where faint background music mixes well with the sound of amiable chatter – and the popping of the occasional cork.
The team are celebrating their first Christmas as an afternoon tea salon, and have launched an exciting range of Christmas treats, which will get even the Scrooges among us into the festive spirit.
The food, service and ambiance are excellent and I was given a chance to sample two of their culinary delights currently available – their Festive Afternoon Tea and Winter Warmers. The latter was an exquisite offering of beef bourgignon, served with petit yorkies and truffled mashed croquettes. Superb!
I was given ample time to digest this culinary classic before a cut down version of afternoon tea was served. It came in three tiers, with a choice of tea to satisfy the most pernickety of tea connoisseurs.
The selection…
Top tier: Malibu cream eclair with desiccated coconut. Chocolate torte (chocolate sponge, orange mousse, chocolate flakes, chocolate glaze, orange caviar, tempered chocolate and golden leaf)
Second tier: Applewood cheese and celery tartlet. Fruit and plain scone served with champagne strawberry jam and clotted cream.
Lower tier: Turkey club sandwich.
All of these freshly prepared, so please don't go if you want a quick bite. Relax and enjoy the surroundings – and the food!
Pre-booking is definitely advisable in this popular tea salon – for more information vist the Colonnades website at www.thesignetlibray.co.uk/colonnades