John Barrowman | Coming Home
---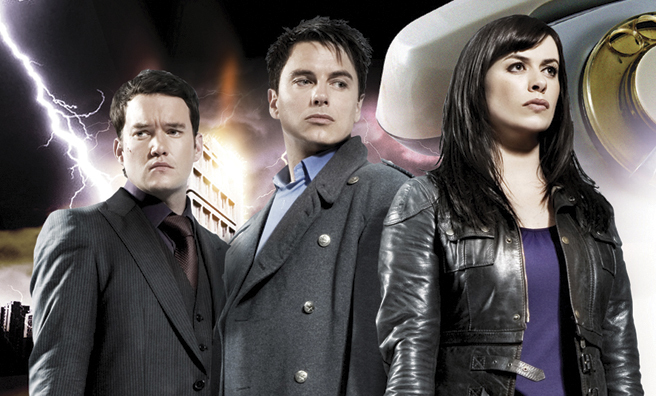 The role that changed his life…
Despite numerous work commitments on both sides of the Atlantic, the busy man has little problem finding the time to return to Scotland.
The entertainer was born – and initially grew up – in Mount Vernon, Glasgow, before his father's job took the family to America. So does John feel like he's coming home?
"I'm very proud to be Scottish"
"This is my birthplace," he insists. "I'm very proud to be Scottish. I always say that when people leave Scotland to go work elsewhere, they become more patriotic than if they're still living in the country. I do feel like I'm coming home. Even when I do my concerts here, I get very emotional about it."
Glasgow is also important to John for another reason; as a visiting student, he attended an audition held at the Royal Scottish Academy of Music and Drama (now the Royal Conservatoire of Scotland) which, six months short of graduating, gave him his big break in London's West End, playing Billy Crocker opposite Elaine Paige in the Cole Porter musical Anything Goes.
"They gave me an honorary Doctorate in Music and Theatre in 2011, which I was studying at that time and never got to finish – work, and a career (touch wood), got in the way!" he says.
That subsequent career has certainly been varied, for which John makes no apologies.
"I'm an entertainer," he insists. "When it comes to the films, the TV shows, whether it's in the West End or Broadway, whether I'm hosting a show, recording an album or doing a concert tour – it's all part of the entertainment business. You would never ask a plumber to just plumb sinks; it's the same in my industry. People who say you should just do one thing, I do not agree with that – and don't believe it."
John will always be linked to one role
There is, however, one role that John will always now be linked to. The pan-sexual time-agent Captain Jack Harkness first appeared in the 2005 relaunch of Doctor Who, before getting his own spin-off series, Torchwood.
"Captain Jack was a pivotal role," John insists. "Prior to that I was well known in children's television, and I was also well known in the West End. I'd done a couple of TV series in America, but they hadn't taken off. Captain Jack changed my life and changed my lifestyle. It's one of the most amazing jobs that has ever come in front of me. That's why I love Jack so much; that's why, if I'm asked at any point ever to play him again, I'll do it at the drop of a hat.
"But what's also great is Jack led me to Arrow," he says. "It's led me to a huge following in America – I'm becoming more of a household name in the States, which I find absolutely amazing. Even coming back to Scotland, I walk down the street and people are going, 'It's John Barrowman!' I've landed on my feet!"
The self-described "geek" loves doing the conventions
John grew up watching Doctor Who as a child, and the self-described "geek" is a regular guest at conventions across America.
"I love doing the conventions. I'm a fan myself, and I get to go to all the stalls and buy not just all the toys that weren't around when I was a kid, but also the ones that were around, which I wrecked!"
John lets slip that his most recent purchases were from a "lovely" antiques shop in Doune, near Stirling.
"I bought eight vintage Action Men, one in the ski outfit that I used to love," he admits. "But my big find was the robot from Lost In Space – mint, in its box, with a ray gun. I have one in the States already – mint, in its box, but without the ray gun – and that makes a huge difference. It was a great deal! I could sell it on eBay for five times as much. I don't think they knew what they had in the cabinet, and I didn't say anything!"
In addition to scouting Scotland's antique shops for bargains, John has returned home in a different way through a series of young adult fantasy novels written with his big sister, Carole – who just happens to be Professor of English and Director of Creative Studies in Writing at Alverno College in Milwaukee, Wisconsin.
"It's a true collaboration"
"Together we create the stories, we do the brainstorming and the character-building, and work out the structure of the story," he explains. "Carol physically takes all the information from about three months of working with me, and then she goes away for the rest of the year and puts it into word form. She does all the hard work; I won't take credit for the stuff I didn't do. It's a true collaboration, though, and it's working."
Having already written a Torchwood novel set largely in South America, John and Carole were adamant that these new stories would be set in Scotland.
"We can't wait to put it on screen so we can film it here," says John. "We're looking for the right production company to collaborate with my production company because we need to get the money. If Scottish investors want to invest in a good Scottish story, let us know!"
---
John Barrowman facts
Born March 11, 1967 (age 48), in Glasgow

John's appeared in many West End productions including Matador, Miss Saigon, The Phantom of the Opera and Sunset Boulevard.

He was awarded an MBE for services to entertainment and to charity in 2014. 

More honours came in July 2014, when John was one of the Queen's Baton Bearers and performed the opening number of the Commonwealth Games Opening Ceremony.