Culross – Tour The Real-life Cranesmuir
---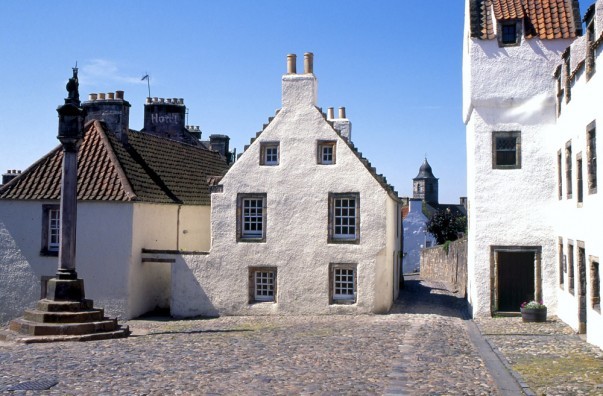 Walking the streets of Culross you could be forgiven for believing yourself to be an unwitting time traveller…
In a remarkable display of historic conservation headed by the National Trust for Scotland, this late Medieval town remains much the same as it was in the 17th century.
Visiting Culross (pronounced "coo-russ") is an immersive experience. Nearly every street, building and cobble evoke a time long since past. It is therefore utterly unique as a heritage site in Scotland.
The now quiet town was once a booming commercial hub endowed with the status of a Royal Burgh. This granted it international trading rights and put it in the same rank as vastly larger centres such as Edinburgh and Aberdeen. Massive quantities of coal and salt were produced here, drawn from the world's first off-shore coal mine stretching under the waters of the Firth of Forth.
During the late 16th through 17th centuries it is said that as many as 170 ships would be anchored off of Culross' coast at any given time. Much of the town's success was due to Sir George Bruce, an industrialist who developed the highly innovative mine and constructed the Palace, the latter of which remains the most impressive singular structure in the town. Up to 170 ships would be anchored off of Culross' coast at any given time.
Heritage Lost
The mine was engulfed by a horrible storm in 1625 and proved impossible to recover, and the economic boom was over by 1750.
Lately, however, a new industry has hit town – filmmaking! Believe it or not, Culross played the role of Norway for the 2011 film Captain America: The First Avenger, and required little alteration as a set for the village Cranesmuir in Jacobite-era television drama Outlander.
Katrina and I visited the town on our #ScotsMagOutlander tour
– check out the tour video below!
Royal Burgh of Culross at sunset 🌅 Cranesmuir in #Outlander 🤓 & tons of history! #ScotsMagOutlander @periscopetv https://t.co/2ATaqSHBo2

— David C. Weinczok (@TheCastleHunter) April 8, 2018
The village boasts a striking tale as well. Legend has it that a 6th century king based at Traprain Law in East Lothian cast his daughter, Thenaw, over a cliffside. This was apparently because she was pregnant by a man he disapproved of. Thenaw survived and drifted to the village on a rickety boat where she was rescued by local monks. Her son, named Kentigern by the monks, grew up to be St Mungo. St Mungo is the patron saint of Glasgow and now also one of Scotland's most beloved religious figures. Thenaw was also canonised as St Enoch.
With its unmistakable charm and rich past, Culross has been reborn as one of Scotland's most illustrative historic sites. It is now even more popular thanks to a certain US historical drama…
---
Adventurer's Guide
You can find Culross eight miles west of Dunfermline on the north shore of the Firth of Forth.
The village has a great pub, the Red Lion, and small shops for groceries and gifts.
A half day is enough for most visitors to tour several of the buildings, walk up to the parish church, and wander the seashell-strewn alleys and wynds.
Attractions close in November, however, and re-open in April.
---
Facts
The town is pronounced "coo-russ"
Unique heritage site
Once a Royal Burgh with international trading rights
Home to the world's first off-shore coal mine
US show Outlander filmed here
---
Discover more Outlander secrets with our new bookazine