Culzean Castle – Now With Added Adventure!
---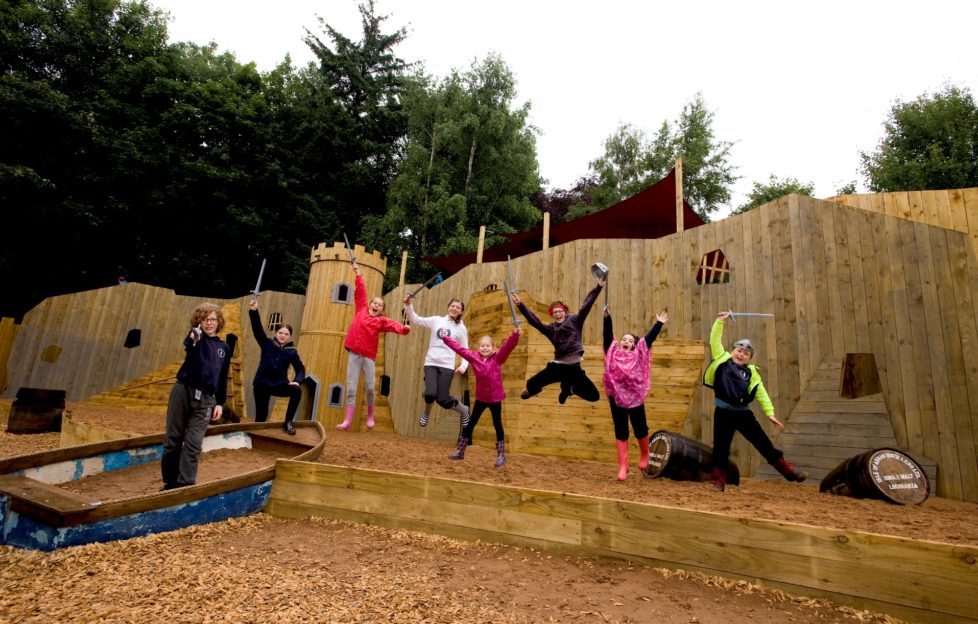 Adventure Cove play park at Culzean Castle. Image by Derek McCabe
The National Trust for Scotland has created a mini Culzean Castle for kids to climb over at Adventure Cove, the castle's new adventure play park.
Adventure Cove recreates some of the fairytale castle and country park's most-loved features and adds a few twists too.
Located at the Swan Pond, Adventure Cove mimics many of Culzean's features. It's got a viaduct, smugglers' caves and, in honour of the castle's US connection, it even has an 'Eisentower'.
'An awesome addition to the Culzean experience'
Created by the Curious Adventure Play Company, the park has already been tested by lots of young adventurers and has been getting rave reviews so far. "Adventure Cove is an awesome addition to the Culzean experience," said Culzean Castle and Country Park General Manager Caroline Glenn.
"It's inspired by the castle and its setting and looks fantastic – almost as good as the Robert Adams' original – but even better for kids as they can climb all over it!
"Our young visitors can let their imaginations go wild and embark on adventures inspired by smugglers and war generals, learning more about Culzean's history as they play. We're sure that Adventure Cove will bring families back again and again."
One of Scotland's top heritage sites
The £250,000 redevelopment of the Swan Pond area is part of a programme of improvements planned by the National Trust for Scotland, which cares for the Ayrshire estate. Plans are still being developed, but the conservation charity intends  to cement Culzean's status as one of Scotland's top heritage sites.
With its dramatic cliff top setting, Robert Adam architecture, fascinating history, and beautiful surroundings encompassing lush woodland, landscaped gardens and rugged coastline, it's easy to see why Culzean Castle is one of Scotland's most popular visitor attractions, with which around 220,000 people visiting every year.
For more information, click here.
For lots more ideas of things to do and places to go across Scotland, pick up a copy of the latest issue of The Scots Magazine. On sale now – or order online here.
---
Grand Opening!
The grand opening of Adventure Cove is on Saturday, July 25, when young adventurers are invited to don fancy dress, assemble at the walled garden at 11.30am and take part in a parade to the Swan Pond.
There they'll find circus activities, carnival crafts, stilt walkers, balloon modellers, costumed characters and lots of fun and games, plus a barbeque serving locally-sourced treats.
The official opening is at the Swan Pond at 12.30, with activities until 4pm.