A Wee Blether With Darren McGarvey
---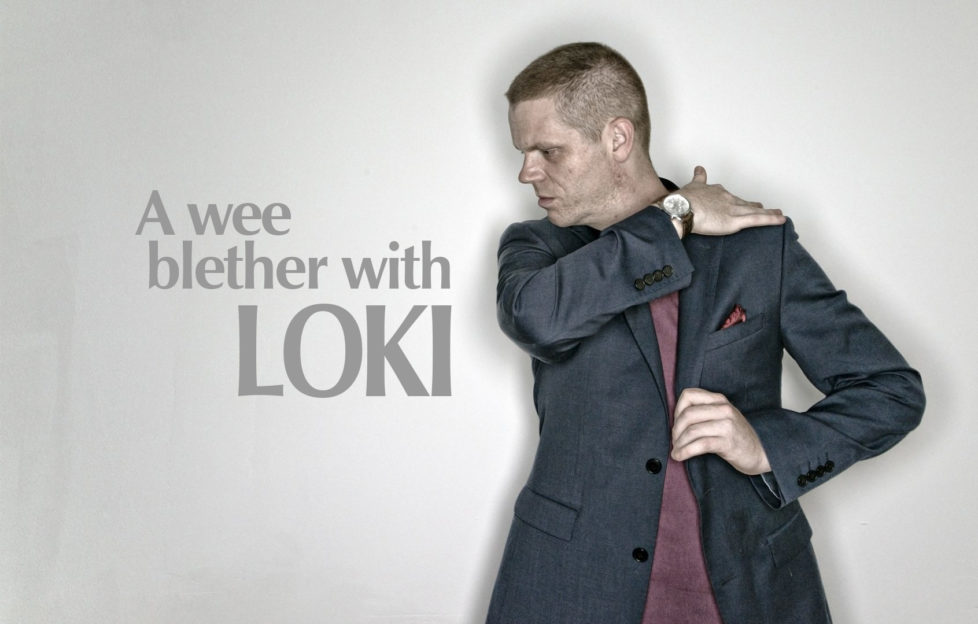 The Scottish rapper talks cross-pollinating audiences at the Edinburgh Fringe
Darren McGarvey, aka Loki, must be the only creative who comes to the Edinburgh Fringe for a bit of a rest.
The rapper, community activist and increasingly sought-after social commentator also known as Loki, is in town to perform Poverty Safari Live. It's the on-stage version of his hugely influential Orwell prize-winning novel. He turns up for our chat looking fresh-faced and clutching a fruit smoothie and a banana.
"I'm loving being here and I'm especially loving only having one thing to do a day. It's allowed me to get the rest that I've needed for a while now. Doing the show's also enabled me to get into a good routine. I'm managing my own recovery much better. A few weeks ago, I was on the rocks with it all.
"Since publishing the book, there's been lots of pressure, lots of demands made of me. Every situation I was going into was really high stakes. Plus all the people you deal with, the travel arrangements, the emails  – it becomes such a clutter in your head. There aren't a lot of people you can talk to or feel you can talk to about it because the situation you're in is pretty rare.
"I realised it was becoming a problem though, and spoke to my sponsor and even saw a therapist. It's all good now, I'm having a great time doing these performances, seeing lots of other exciting Fringe stuff and spending time with my kids."
Why did you decide to do the live show?
"I'm trying to create a space where I can cross-pollinate a lot of different sections of my audience. They're all together in one room, under one roof-getting a sense of each other. There are a lot of people reading my book who don't normally read books, and equally there are a lot of people coming to my show who don't normally come to the Fringe.
"It's all about promoting discussion, encouraging people to ask questions. I place a variety of difficult subjects and situations- what I like to call land mines – throughout the show. They're in different sections of the audience based on their experience  or class or politics. They'll stumble onto them and see themselves  in things. It's not me standing up preaching or pointing the finger -I just tell a story that holds different mirrors up at different points.
"People connect with or perhaps see themselves in some of the different scenarios. Obviously, I'm very critical of my own past behaviour in the show and I think that's very important. If you're going to try to be persuading people to re-examine  themselves and their beliefs then you definitely need to go first."
Have you been getting good feedback?
"It's been incredible. After the show I have people coming up to me with tears in their eyes. They're affected by it. They get it. It turns out writing a book about my life has been very helpful for a lot of people. They often come up to me at events and even sometimes  just in the street. Whether its social workers, cops or people who've lived it –  it's having quite a powerful impact on their lives.
"I think starting the book with a chapter on why I'm a crap reader was a good way of attracting people. Straight away they identified with something. For many, they'd never found anything that talked about things that they were familiar with before. That was the very reason they didn't read.
"They were blaming themselves when actually the real reason they weren't encouraged to pick up a book is that the world is full of middle-class fluff. If you're not identifying with the subject matter then reading can become a  laborious task. It's like when you're forced to eat vegetables. You know they're good for you but it can be hard. But a moothful of Skittles goes down a treat – you forget you're eating! It's the sort of book that when folk are finished reading it, they want to pass it on to someone. It's that word of mouth that's pushing it in a way I could never have imagined."
Poverty Safari Live is at The Stand New Town Theatre, Edinburgh, August 16-26.
Click here for tickets and more information.
Look out for the full interview with Darren in a future issue of The Scots Magazine!