A Family Day Out Around Falkirk
---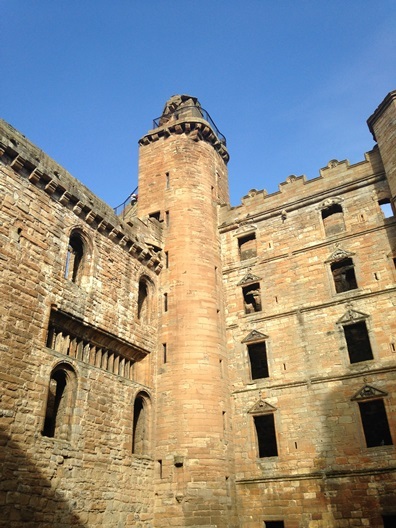 The road between Dundee and Glasgow is well-travelled by my little car as I dash off to interviews, meetings and the occasional swanky press do, so the opportunity for my daughter and me to spend a Saturday in and around the Falkirk area was not to be missed.
First stop – Linlithgow Palace
The ruined but magnificent palace was the home of Scotland's royal family in the 15th and 16th centuries.
Although without a roof, windows or doors, the Palace has retained its sense of grandeur and as we explored each of the floors, it was only too easy to imagine Mary Queen of Scots welcoming her guests as she sat by the mighty fireplace in a bottle green velvet dress, the young King James playing on the banks of the nearby loch and the magnificent fountain in the centre flowing with wine in honour of a visit by Bonnie Prince Charlie.
Climbing to the very top of one of the towers proved worthwhile for several reasons – the breathtaking view and the heartbreaking story of the queen who waited in vain in the tiny room perched on the tower's highest point for her beloved husband to return from battle.
On our return from mediaeval to modern day Linlithgow, we discovered there was a small market in the centre of the town. Cheese, meat, pies, soap and music from a fiddle and an accordion made for a much better shopping experience than wandering round the supermarket, which is my usual Saturday morning date!
Next stop: Falkirk Wheel
Entry to this very popular attraction – which welcomes 500,000 visitors every year – is free and there are various activities in and around the canal, as well as a decent but very busy café.
We splashed out on the Falkirk Wheel boat trip, which began with our boat moving from the Forth & Clyde Canal to the Union Canal by being carried high into the air on Scotland's latest engineering marvel. After a short sail along the Union Canal, our boat turned around and returned to the Wheel for our downwards trip on the world's only revolving boat lift.
By this time, we had both worked up an appetite so it was time for a very late lunch at the Inn at Kippen.
We began with a sharing board of Ayrshire Dunlop Cheddar, venison salami, vodka and beetroot cured salmon, pickles, chutneys, homemade breads and tiny roast tomatoes – this was a meal in itself and was promptly voted my daughter's favourite starter of all time.
This was followed by a 'hand-formed' Scottish mince burger for my daughter and a mouthwateringly-good twice-baked cheese soufflé for me. after which we definitely had no room for a dessert, even though they looked utterly delicious!
Then it was time to return home. However, my journeys to Glasgow are now going to include stopping off time so I can explore this often-overlooked part of Scotland further.