Monster Creepy Crawlies at Deep Sea World!
---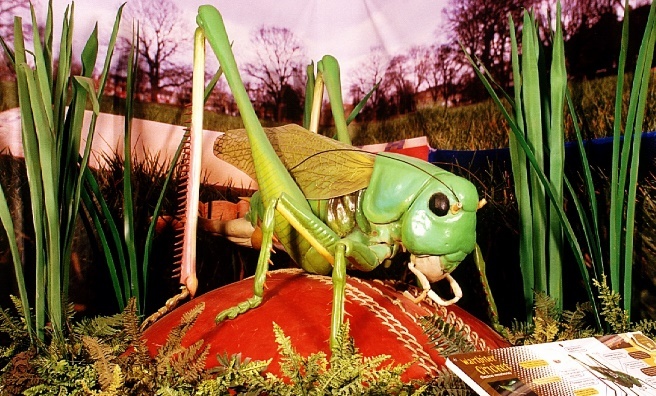 A giant cricket lands at Deep Sea World, just in time for Monster Creepy Crawlies!
Deep Sea World, Scotland's national aquarium, has some very unsettling new arrivals – Monster Creepy Crawlies!
The extraordinarily lifelike animatronic creatures, including a human-sized snail and duelling scorpions as big as cars, are the stars of 'Monster Creepy Crawlies', which opened at the North Queensferry attraction on June 27.
Deep Sea World's new attraction has been created by renowned exhibition designers Tourwest and most of the giant exhibits were created by specialist wildlife sculptors, several of whom learnt their trade at the Natural History Museum in London. Other models and the large scale props which accompany them were made by Shepperton-based film prop makers.
Several hundred times their actual size
Because the creatures are, in some cases, several hundred times their actual size, electron microscopes were used to photograph them in detail and these images were used to ensure the models were entirely accurate.
Each model takes, on average, three months to make, with the largest, the stag beetles, taking five months because of their complexity.
"Monster Creepy Crawlies is an instantly accessible and highly entertaining way to give visitors of all ages an entirely fresh look at the fascinating world beneath our feet," said Deep Sea World's Kerry Myers.
"This new show super-sizes often microscopic insects and provides visitors with an exciting new way to see and appreciate them.
"One things for sure, you'll never look at a fly or a snail in quite the same way again!"
For lots more ideas about places to go and things to do all over Scotland, this month's issue of The Scots Magazine is in the shops now – or order online here.
---
Big Bugs!
'Monster Creepy Crawlies' is at Deep Sea World, North Queensferry, Fife, KY11 1JR.
For more information, visit

www.deepseaworld.com