Last chance to visit Dinosaurs Return! at Edinburgh Zoo
---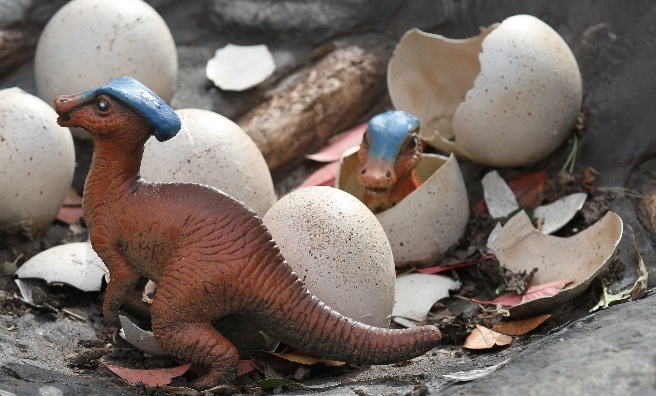 Just hatched! Two baby Parasaurolophus say hello to the world - and Edinburgh Zoo. Photo copyright RZSS
Dinosaurs Return! – the long-awaited dinosaur exhibition at RZSS Edinburgh Zoo – comes to an end on 1 November, 2015 – so be quick if you want to see these prehistoric monsters in action!
The biggest dinosaur attraction in Scotland, the exhibition features 14 amazingly realistic dinosaurs set against the backdrop of the famous hills of Edinburgh. With an extensive range of movement, many of the animatronic models can move their neck and head, eyes, tail, feet, wings or limbs in the way experts think the beasts would actually have moved and the dinosaur's realistic calls and sounds can be heard across the Zoo's hilltop.
The dinosaurs have taken up residence
Towering giants like the T-Rex and brachiosaurus, a pair of ferocious coelophyses and a number of tiny hatchlings and infant dinosaurs are among the dinosaurs who have taken up residence at Edinburgh Zoo's specially created landscape.
Visitors can tour the exhibition with dedicated Dinosaur Keepers Amber, James and Lois, who will answer any questions about the Zoo's latest residents.
'Awe-inspiring and memorable'
"Dinosaurs Return! is not to be missed," said Chris West, CEO of the Royal Zoological Society of Scotland. "A truly incredible additional attraction at Edinburgh Zoo for the next six months, we hope Dinosaurs Return! is both educational and informative, as well as awe-inspiring and memorable.
"We are extremely proud of the exhibition that aims to engage RZSS with large audiences regarding the very real threat of extinction faced by living animals today. "
As well as the regular mobility vehicle, Edinburgh Zoo has put in place a number of large people carriers to give extra help to visitors travelling to the top of the hill.
For further information, click here.
For more ideas about places to go across Scotland, pick up a copy of the latest issue of The Scots Magazine. On sale now or order online here.
---
Half a Million Visitors!
Dinosaurs Return! has been visited by nearly 500,000 people since it opened in April.
"We are delighted that so many people have engaged with Dinosaurs Return! since it opened in April," said Barbara Smith of the Royal Zoological Society of Scotland.
"We hope as many people as possible will visit over the coming days and have a totally ROAR-some day out at RZSS Edinburgh Zoo!"
For more information, click here.