The Dinosaurs Are Here!
---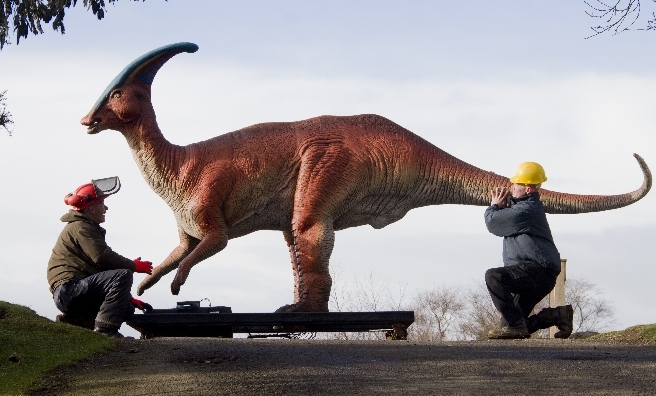 The Parasaurolophus is carefully manouvred into his spot on the hill at Edinburgh Zoo
A huge delivery arrived at Edinburgh Zoo on Monday, February 23 – fourteen animatronic dinosaurs!
With sharp teeth and ferocious claws, most of the new arrivals are many, many times larger than any of the Zoo's current inhabitants – and the 11 adults and two babies are taking up residence in a nest at the top of Edinburgh Zoo's famous hill.
Discover the dinosaurs' lost world
The prehistoric monsters have travelled from the USA to Scotland to star in Dinosaurs Return!, which will offer visitors to the Zoo a chance to discover the dinosaurs' lost world while also raising awareness about the very real threat of extinction faced by many endangered species.
On their arrival at the Zoo, the dinosaurs were carefully unpacked from the shipping containers that had taken them across the North Atlantic Ocean. Next, the Zoo's skilled team used forklift trucks and lots of manpower to take the dinosaurs on their journey's final leg – to their new home at the highest point in the Zoo.
'They're extremely impressive and convincing'
"We're incredibly excited to have these life-size animatronic dinosaurs at Edinburgh Zoo," said Barbara Smith, Managing Director for the Royal Zoological Society of Scotland, owners of Edinburgh Zoo. "With realistic movements and sounds, they're extremely impressive and convincing."
Zoo staff are now developing a specially designed landscape, with huge rocks and impressive foliage to create the creatures' 'habitat' – we can only keep our fingers crossed the dinosaurs like their new home and don't decide to make a dash for freedom!
To find out about other events happening across Scotland, pick up a copy of this month's issue of The Scots Magazine or order online by clicking here.
---
Dinosaurs Return!
Dinosaurs Return! opens on Friday 3 April and runs until Sunday 1 November 2015. Tickets will shortly be released from April onwards – to book, please visit www.edinburghzoo.org.uk.