Due South 2015!
---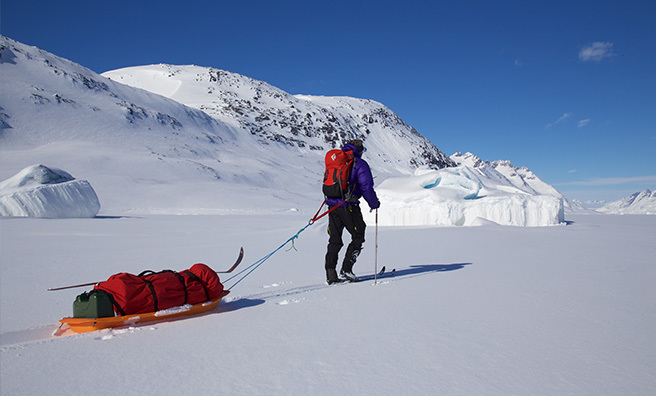 One man's bid to become the first Scot to undertake a solo, unassisted and unsupported expedition to the South Pole
30-year-old Luke Robertson will set out from the Hercules Inlet at the very edge of Antarctica in December on his expedition Due South 2015 hoping to reach the South Pole unaided, in the hope of becoming the first Scot and youngest Brit to do so.
Luke will be dragging 100kg of equipment across 730 miles of ice in -50°C temperatures and 100 mph winds – and in preparation for this he's been lugging tractor tyres around his home city of Edinburgh!
"After all the training and preparation I am now eager to start the expedition and face the huge mental and physical demands the challenge will present."
Born and raised in Stonehaven, Luke underwent major surgery for suspected brain cancer in 2014, and is embarking on this expedition in the hope that it might inspire others to overcome their own mental and physical challenges.
 "The strength of human character; its desire and ability to endure hardship and to recover stronger than ever before should never be underestimated."
During his time in the neurology ward of the Western General Hospital in Edinburgh, Luke met many patients with brain cancer, and says it was "the most enduring and humbling period of my life".
There Luke witnessed first-hand the work carried out by Marie Curie nurses, and pledged to raise funds and awareness for the charity. Through public sponsorship of his expedition he has already raised over £23,000 – and counting.
"I have been overwhelmed by the support and generosities I have received so far in my fundraising efforts and know the infinite encouragement will enable me to push myself further and keep me smiling when I spend Christmas day alone!"
"I hope that through undertaking this extreme endurance expedition I can demonstrate the ability to overcome even the most testing situations"
Luke has received backing from Sir Ranulph Fiennes and Mark Beaumont, and is now also supported by the Saltire Foundation, the Mountaineering Council for Scotland and the Royal Scottish Geographical Society.
Sir Ranulph calls the expedition "one of the most enduring challenges possible", and said Luke's determination was admirable.
"Not only is he aiming to inspire others to achieve their own goals in life and also to raise funds for Marie Curie but he does so after overcoming significant health challenges in his own, relatively young life.
Luke's sets off on his record-breaking expedition, Due South 2015, in early December, with live tracking updates being posted to his Facebook and Twitter pages.
---
Sponsor Luke!
You can find out more about Luke's record-breaking expedition for Marie Curie by visiting his website, and you can sponsor him by visiting his JustGiving page.