Dulse Vita! Scottish Seaweed's The Next Culinary Sensation
---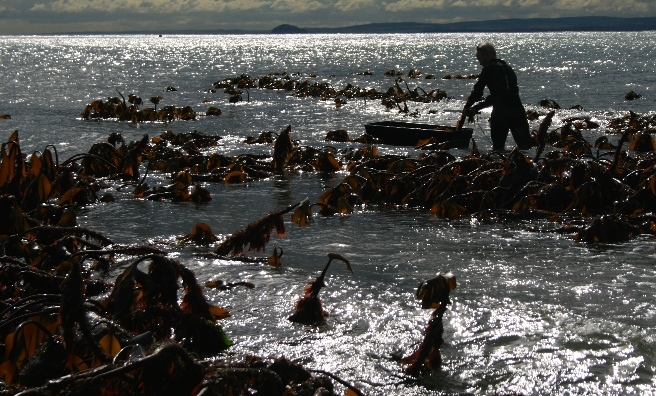 Harvesting seaweed on the Scottish coast. Photo courtesy of www.maraseaweed.com
A new culinary trend is sweeping across Scotland's restaurants and dinner tables – Scottish seaweed!
This year, Scotland is celebrating the Year of Food & Drink and VisitScotland has been working closely with the Scottish food and drink industry, culinary education specialists and seaweed experts Mara Seaweed to tell the world about the re-emergence of an ancient and highly nutritional natural ingredient, Scottish seaweed.
With its wonderful health benefits, natural abundance and great taste, the popularity of using seaweed in fine dining and everyday cooking looks set to continue to increase, a rise that can partly be attributed to the nutritional attributes of seaweed, which offers one of the broadest range of minerals of any food on the planet.
'A healthy option for replacing salt'
"Scottish seaweed contains a wide range of vitamins and minerals,"  said Dr Jane McKenzie, Academic Lead for Food & Drink Knowledge Exchange at Queen Margaret University, where extensive research has been conducted into the health benefits of Scotland's natural larder, including seaweed.
"In addition, manufacturers can use seaweed as a healthy option for replacing the salt added to processed foods so, as a result, seaweed may ultimately contribute towards reducing the risk of chronic disorders, particularly those related to high blood pressure and poor dietary habits."
Seaweed foraging takes place on the west and east coasts of Scotland
Scottish seaweed, which is an incredibly high-energy, low-calorie food source, is harvested from Scotland's chilled waters, with seaweed foraging taking place on both the west and east coasts of Scotland. "In Scotland we have an ideal habitat for seaweed," said seaweed harvester Rory Macphee of Mara Seaweed, a small family run company based on Edinburgh's rugged coastline which specialises in hand foraging for seaweed.
"Firstly, the low human density and reduced activity in the coastal zone results in purer waters. Secondly, seaweed is mineral greedy and Scotland's fearsome tides are exactly what seaweeds need for high nutrient exchange."
For all the latest Scottish foodie news, pick up a copy of this month's issue of The Scots Magazine. On sale in the shops now or order online by clicking here.