East Lothian Battle Weekends: Pinkie Cleugh
---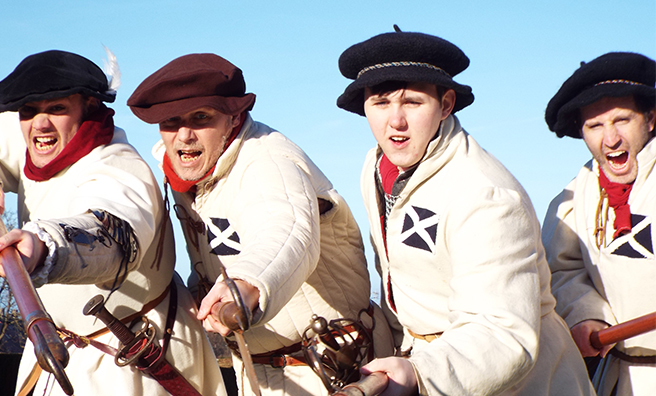 Enjoy a spectacular historic weekend of events in honour of The Battle of Pinkie!
The Battle of Pinkie, the biggest battle ever to take place on Scottish soil, is set to run bloody and screaming through the parkland of Newhailes Estate again for the first time since 1547.
Presented by the Scottish Battlefields Trust as part of Scotland's Year of History, Heritage and Archaeology, visitors are invited to step back in time for two days of activities across September 16 and 17. Here you will be able to witness a dramatic re-enactment of this epic battle!
Arran Johnston, Director of the Scottish Battlefields Trust said:
"The Battle of Pinkie was truly one of Scotland's biggest and most dramatic battles. I'm delighted that we're able to bring it back to life for the first time – allowing everyone the opportunity to truly understand its significance.
"We hope this event is the start of growing recognition for a battle that changed the course of history, and is something that will encourage greater protection for the battlefield site in future years."
Experience a thunderous cavalry charge, 
walk 

through historical encampments, 
meet the 

characters from these 

moments
in history, and try your hand

at 

Tudor archery!
There are living history camps on site, where troops from both sides and of all ranks will reveal what life was like in this turbulent period of history. Experts will even be on hand to explain the fashion choices from this period.
This event will be the climax of East Lothian Archaeology Fortnight and is supported by EventScotland, part of VisitScotland's Event Directorate.
Stuart Turner, Head of EventScotland, said: "We are delighted to be supporting East Lothian Battle Weekends: Pinkie Cleugh through our National Funding Programme.
"Scotland is the perfect stage for cultural events, and the event makes wonderful use of Scotland's military history to create an engaging experience for visitors from both the local community and further afield.
"With archery, craft stalls, family activities and of course, the battle re-enactment itself, there's something for everyone to enjoy."
Tickets to the event cost £6 for adults and £3 for children and can be purchased online or on the day. 
For more information, tickets to the re-enactment and full programme, visit: www.eastlothianbattles.com
Follow the event on Facebook!

---
Fact File
The Battle of Pinkie took place in September 1547, when the armies of Scotland and England fought for the marriage of the infant Mary, Queen of Scots.
The larger Scottish army attacked across the River Esk into the teeth of ferocious cavalry charges and a hail of arrows, cannon and gunshot.
The outcome was a calamitous defeat for the Scots, with some reporting up to 10,000 dead.
The pioneering combination of horse, foot and artillery with supporting fire from naval vessels, which makes Pinkie one of the first modern battles to be fought in Britain.