A Wee Blether with Eddie The Eagle
---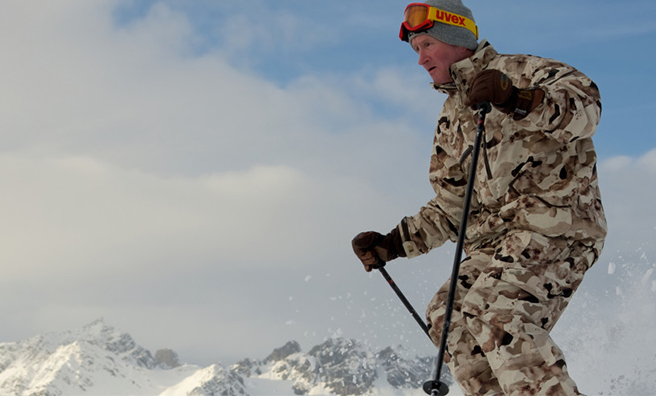 Britain's first Olympic Ski Jumper has turned performer
Eddie 'The Eagle' Edwards is famed for taking life in both hands and, quite literally, leaping into the great unknown! Having gained fame as Britain's first Olympic Ski Jumper, Eddie's about to go on tour with his debut one-man show, Try Hard and he took a break from rehearsals to have a chat with The Scots Mag…
Why did you decide to take to the stage?
I have a lot of stories to tell which I thought I'd share with everyone. The tour starts on May 25 and goes through until the end of June, with three dates in Scotland – Stirling, Aberdeen and Inverness. I'm excited but nervous as I've never done anything like this before – not that that's ever stopped me doing anything!
To what do you attribute the passion that fuels your perseverance?
(Thank you to Linda Marie on Twitter for this question)
I'm inspired by people telling me something is impossible. That's like a red rag to a bull. The more difficult something seems, the more I want to do it.
What's been the highlight of your 29 years in the media spotlight?
There are so many. The birth of my two girls, who are 10 and 12 now. Appearing in TV diving show Splash. Filming a television series on Hamilton Island in Australia and lots of fantastic skiing trips. And going to China as part of the promotion for the film about my life, which stars Hugh Jackman and was released last year.
How did you feel when Hollywood came knocking?
Very, very excited. I thought you had to be dead for at least fifty years before they even considered making a film about you! Watching the movie being made, attending the premiere and seeing the film being shown at cinemas was a great experience. Hugh Jackman is a lovely, lovely guy and we had a great time travelling around the world, promoting the film.
What's been the worst moment in your 29 years of fame?
There are two. Going bankrupt in 1991 as a result of my trust fund being mismanaged. And getting divorced.
If you could be any animal, what would you be?
(Thank you to Peadar Ailean on Twitter for this question)
A cat. I'm quite independent and cats seem to have a very nice life where can usually find somewhere nice and warm to sleep and just run off and catch the odd bird or mouse from time to time. And I like being stroked!
Do you have any plans for your free time during the Scottish leg of your tour?
I'm hoping to go to the indoor ski slope in Glasgow, go walking in the Aviemore area, pop across to Loch Ness to see the Monster and visit a few distilleries for a whisky or two.
I've spent quite a lot of time in Scotland over the years, including, when I was 18, at Glenshee Ski Centre for a season.
What's your favourite Scottish memory?
Taking part in charity pro-celebrity golf events in Aberdeen. There would be about 200 people watching so I always had to hope I hit the ball right!
What's your favourite place in Scotland?
Thanks to my days at Glenshee, I like Blairgowrie and Braemar – and I love Edinburgh. It's wonderful to walk along Princes Street and see the castle – and the dry ski slope at Hillend always brings back memories, including about five trips to Edinburgh Royal Infirmary!
What's next for Eddie The Eagle?
In the short term, after the tour, I'll be doing some work on my house and maybe having a holiday with my girls. In the long term, I just hope my next 53 years are as fun and exciting as the first 53 years!
---
Eddie's New Show
TRY HARD
Stirling's Albert Halls
June 15
Tickets: 01786 274000
or book online here
Aberdeen's Lemon Tree
June 18
01224 641122
or book online here
Eden Court, Inverness
June 19
01463 234234
or book online here