Edinburgh International Book Festival Goes Around the World
---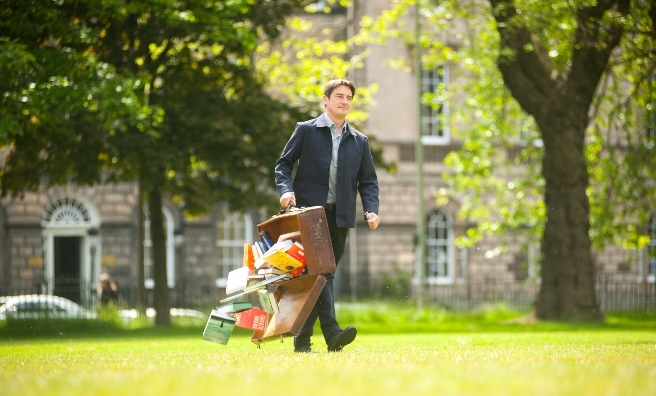 Book Festival Director Nick Barley spills the books on this year's programme. Photo courtesy of Edinburgh International Book Festival
Edinburgh International Book Festival's 2015 programme is the 18-day event's most global programme to date, with voices from over 55 countries writing in a multitude of languages.
"This year, the Book Festival is more international than ever before," said Nick Barley, Director of Edinburgh International Book Festival. "Charlotte Square Gardens will reflect the idea of the Global Village as we welcome authors from across the planet.
Literary megastars in their own countries who are making the trip to Edinburgh this August including Spain's Jaume Cabré whose Confessions has sold over 1 million copies, Germany's Jenny Erpenbeck who has just won the 2015 Independent Foreign Fiction Prize, the multi-award winning Helle Helle from Denmark, South Korea's Han Kang, Alain Mabanckou from Congo and Salla Simukka, an exceptional new Young Adult author from Finland.
Val McDermid discusses her new crime novel with First Minister, Nicola Sturgeon
Marilynne Robinson, regarded as one of America's greatest living writers, makes her first visit to Charlotte Square Gardens, while Philippa Gregory launches her brand new novel on Henry VIII's last queen, Patrick Ness reveals his much- anticipated new novel and Val McDermid discusses her new crime novel with First Minister, Nicola Sturgeon. Elsewhere in the programme Louis de Bernières, Joanne Harris and Etgar Keret are joined by David Mitchell, Irvine Welsh, Emily Woof, Owen Sheers, Amit Chaudhuri, previous Man Booker Prize winners Ben Okri and Howard Jacobson, Pulitzer Prize winner Jane Smiley and historians Antony Beevor and Ferdinand Mount.
Edinburgh's own Ian Rankin will chatt to some of his favourite writers and musicians, including Alan Cumming, Viv Albertine, Edwyn Collins and Stuart David, co-founder of Belle and Sebastian. Telling their own fascinatingly personal stories will be comedian Paul Merton, Magnus MacFarlane-Barrow who founded Mary's Meals, Ronnie Browne from The Corries, former member of The Communards Reverend Richard Coles and historian Antonia Fraser.
Channel 4 Economics Editor Paul Mason will discuss capitalism and a route to a fairer society with former First Minster Alex Salmond; Caroline Lucas, the Green Party's solitary MP, explores the Westminster system; former Prime Minister Gordon Brown examines the future of Scotland and BBC Political Editor Nick Robinson takes us through his 2015 Election Diaries.
'Scots have always embraced internationalism'
Cabinet Secretary for Culture, Europe and External Affairs Fiona Hyslop said: "As well as another fantastic line up of top writers, this year the Edinburgh International Book Festival is highlighting one of today's most important subjects, internationalism. Scots have always embraced internationalism and our intangible cultural heritage of storytelling, poetry and music transcends boundaries."
Always exploring new ways of presenting literature, words and books, there is a strong performance element in the 2015 Festival and in a tribute to Seamus Heaney, a full length dramatic reading of his translation of Beowulf takes place in a co-production with the Tron Theatre Company.
For the full programme, and, after June 23, to book tickets, click here.
---
Just For Kids!
The Baillie Gifford Children's Programme features China's Haji Noor Deen turnings words into artforms through calligraphy; Iranian illustrator Anahita Teymorian talking about translating picture books; and French graphic novelist Barroux launches his new wordless picture book.
In addition, Bruce Pascoe, Dub Leffler and Brenton McKenna jet in from Australia. Julian Clary and Danny Wallace both present their first children's books, Kristina Stephenson and Derek Landy each launch their new series, and Cressida Cowell launches the last in her How to Train your Dragon series.