Edinburgh's Easter Eggs
---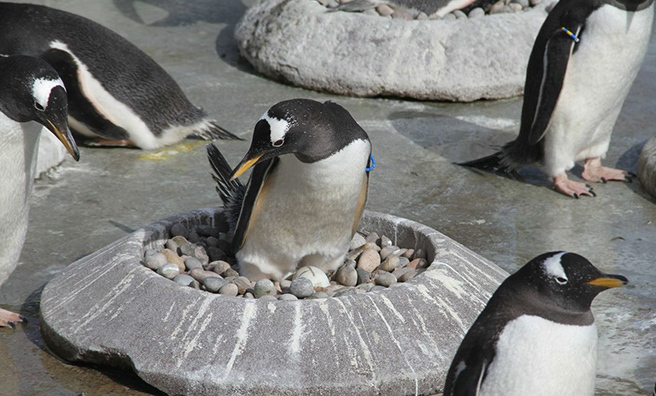 The latest arrival of Easter eggs at Edinburgh Zoo were even better than the chocolate kind . . .
It's breeding season for penguins and the first few eggs have already been laid at the zoo's Penguin Rock.
The gentoo penguins have made their annual dash to get the best nesting rings, and have decorated them with pebbles to attract their chosen mate.
Already there are three gentoo eggs on Penguin Rock, but the little Rockhopper penguins, beloved by children everywhere since the release of Happy Feet, are ahead with eight eggs.
It has been six years since a rockhopper chick was born in Edinburgh Zoo so the keepers have their fingers crossed for this year's clutch.
"The official start of the penguin breeding season is the busiest time of the year for bird keepers and it is always very exciting," said penguin keeper, Dawn Nicol. "We are really optimistic that we may get a rockhopper chick this year as they have never laid quite so many eggs before."
There is always plenty of activity during nesting time, and the keepers have set up a penguin cam for online visitors to join in the fun.
The penguins' eggs incubation period is normally 33-35 days, so the first penguin chicks will likely arrive in May.
Parents share the incubation duties equally, and when the chicks reach three to four months of age they join the penguin group's crèche, as they would in the wild. Here the chicks learn essential skills such as how to swim and feed.
Edinburgh Zoo has the largest outdoor penguin pool in the world, so there will be plenty for the chicks to explore when they grow up!
---
Visitor Info . . .
The zoo is open at 9 am every single day of the year and closes at 6 pm during the summer months.
Ticket prices and information can be found here.