Eilish McColgan
---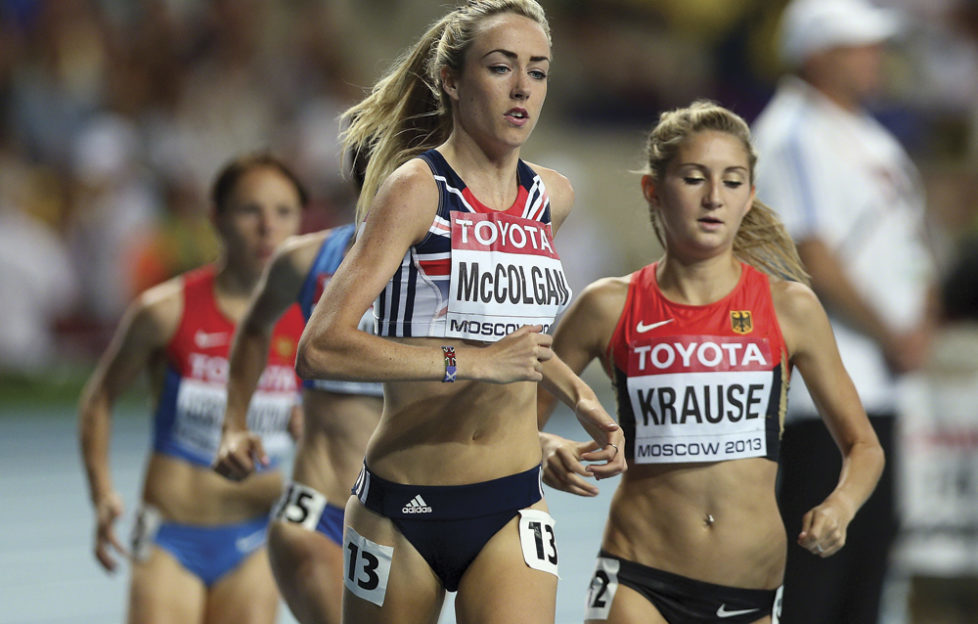 Competing in Moscow in the IAAF World Athletics Championships, 2013
Commonwealth Games fever well and truly gripped the nation recently, and for one athlete it was definitely a case of history repeating itself.
That's because 23-year-old Eilish McColgan, who finished a very credible 6th in the women's 3000-metre steeplechase, is coached by none other than her mum Liz McColgan, Scotland's most successful female athlete. 
Eilish is the eldest of Liz and Peter McColgan's five children. With both parents international athletes, it is perhaps not so surprising that their eldest child is following in their footsteps. Liz told me, "Eilish started running as a 12-year-old at school so the decision was hers. She had always seen me run and thought of it as a normal daily activity."
Eilish takes up the story. "I was born in Dundee and brought up in Carnoustie. I started running in my first year at high school and I really enjoyed it. My mum said I should join the local club, Dundee Hawkhill Harriers. Initially I did high jump, hurdles, every event really, then I decided that running was the thing I wanted to do. That's when my mum said she would coach me if I wanted to take it a bit more seriously because there was no coach at the club.
"I was very fortunate that I was in a great training group. There were about 25 of us, all ages, all abilities and I just blended in. I wasn't given any special treatment. It was a very sociable group and we all got on really well, like a big family." 
Eilish didn't realise quite how famous and successful her parents were.
"It took me a while to realise just how good Mum really was."
"Of course I was aware both my parents were athletes but I never went to watch them race. I knew they went out for runs but I was a bit naïve. I just thought everyone's parents went out for runs. It wasn't until I got to high school that I realised what an achievement it was to be a world champion. It took me a while to realise just how good Mum really was."
Her mum won two Commonwealth gold medals, the first in Edinburgh in 1986 and the second in New Zealand in 1990, as well as an Olympic silver in Seoul. She won the World Championships in the 10,000m in 1991 and went on to win the New York marathon and the London marathon. Now Eilish is following in her footsteps.
"I definitely feel more prepared this year. I race the same girls week in, week out in international races and so I've got myself more accustomed to that kind of competition – whereas before I was very, very nervous." 
The reasons Eilish has managed to prepare so well are twofold: she has been a full-time athlete for around a year now, having given up her part-time job halfway through 2012 and finished her degree in maths and accountancy at the start of 2013. Since going full-time Eilish has signed a contract with Nike, which runs until Rio 2016.
Liz explains, "Since Eilish became a full-time athlete she has progressed well and is ranked 10th in the world, but I still see her as a developing athlete who has a lot more years to go before she is the finished product."
Eilish has made several trips to Lornah Kiplagat's high altitude training camp in Iten in Kenya.
"UK athletics has been going there for the last five years now," Eilish told me. "I think it was Mo Farah who originally went out. It's absolutely perfect for running. It is full of dusty trails and they go on for miles and miles. It has an altitude of 8,000 feet. It's very difficult to train that high up and so, when you come back to sea level, you really feel the difference. 
It made perfect sense for Liz to coach Eilish because, after the death of her own coach, Harry Bennett, Liz coached herself to her first Commonwealth gold medal win in Edinburgh in 1986.
"My mum is such a large part of my athletics I can't imagine where I would be without her being my coach. She's been there and done it."
"At times it's difficult to be both mother and coach," says Liz, "but in the main, it's great. I like coaching Eilish because of her talent as a runner, not because she is my daughter but, of course, as a mother, I am very proud."
Liz has a lot to be proud of in her own career, including receiving an MBE in 1992 for services to sport.
"Running helped me discover who I was. I was a kid from a council estate who had nothing and ended up travelling the world in a sport I loved.  I am who I am because of my running.
"The proudest moment of my career may have been when I was crowned world champion – it's rare to be able to say, as an athlete, at one moment in time I was the best in the world."
Let's hope we have another race with the same result very soon – and what a fairytale ending that would be!
---
Eilish's Facts
Born in Dundee, Scotland, on November 25, 1990
She won the 2004 British Cross Country Championships in her age group
Her senior debut was in the 2011 European Team Championships in Stockholm, Sweden
She is the eldest of Liz McColgan's five children