Curtain Up on The Elixir Of Love!
---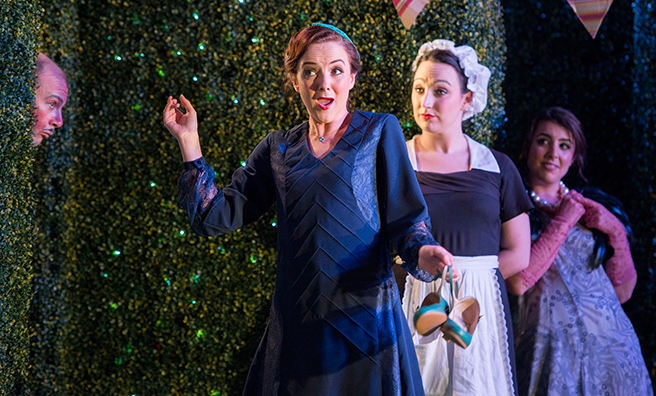 Don't miss The Elixir Of Love from Scottish Opera.
Soprano Hazel McBain reflects on opening
night and the initial audience reaction to
Scottish Opera's The Elixir Of Love
We have had our opening night, and what an opening night it was! The audience in Motherwell, where our tour kicked off, was fantastic and we are all so excited to be hitting the road.
We have been rehearsing the show in Glasgow for a good few weeks now and unlike most operas, where you don't see the actual set until in the theatre, we had the luxury of rehearsing on our beautiful set, designed by Oliver Townsend, from day one.
This meant that there were (thankfully!) no technical mishaps when we arrived in Motherwell earlier this week. This is, of course, also thanks to our wonderful technical team who help everything run smoothly.
Orchestral Accompaniment
One of the great things about this show is that we have a fabulous mini orchestra touring with us. The ensemble comprises five musicians, on violin, viola, cello, horn and guitar.
Scottish Opera's Autumn Tour is usually done with piano accompaniment, so we are all delighted to have the ensemble on board, as well as Music Director Stuart Stratford to conduct at the first six venues, and Head of Music Derek Clark from then on.
The only little challenge that comes with this is that all the venues have a different set-up and therefore the ensemble will be in a slightly different place each night.
This will take a little bit of adjusting for us singers as we get used to looking in a certain direction to 'clock in' with the conductor without interrupting the action on stage. Acoustics and theatre layouts will also vary throughout the tour, so we'll do what's called a balance call before each show to test it out.
All aboard!
After rehearsing in Glasgow for weeks, we were all ready and excited to start the tour in Motherwell.
We boarded our lovely tour bus (with The Elixir of Love poster on the side just so people know it's us!) and made our way to the Concert Hall for our pre-show routine. This consists of a few safety checks, a balance call with the ensemble and then on to hair and make-up before getting into costume and doing a few final vocal warm ups.
Elixir is such a great opera and one which really requires an audience to bring out the comedy. It's so hard when rehearsing to know how people will react, especially when there are moments of actual audience interaction. (Spoiler alert!)
The opening night went down so well. People seemed to genuinely love it and have a great time. They laughed in all the right places, and even in places we didn't realise were funny!
Our director Olly Platt has included a few little Scottish touches which will hopefully really appeal to audiences.
There weren't even any opening night mishaps to report! No one fell over, no one made another singer laugh onstage and fake moustaches managed to stay on – which was a first! I can't wait for the next show and to travel to some beautiful places across Scotland. My hiking boots are at the ready!
Hope you all enjoy the show.
---
Tour dates!
This week the tour is heading to Ullapool,
Stornoway, Thurso and Drumnadrochit!
To book tickets click here.