Ten Things You Cannae Miss . . . July 31 – Aug 6
---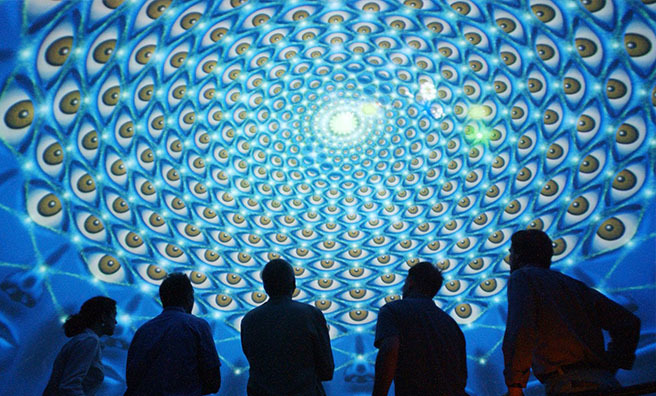 Our team have swept the length and breadth of Scotland to find you the most vibrant, most unusual and most unmissable events on offer this weekend, and in the coming week . . .
Sonic Vision
The digitally acclaimed animated planetarium show is back at Dynamic Earth from Monday, August 3. Featuring music from 17 different artists and 360-degree projection in Dynamic Earth's ShowDome, the sensory experience is a must-see for families. They also have a section of the world's biggest scientific experiment – so don't miss out!
Orienteering Championships
The largest orienteering event ever to be held in the UK is coming to Inverness from July 31 to August 8 featuring 450 of the world's best orienteering athletes from 50 nations! There are high hopes for the British team so head along to cheer them on – or take part yourself in the Scottish Six Days!
Food, Glorious Food
The first Edinburgh Food Festival has taken over George Square Gardens until Sunday, August 2, for a weekend of delicious food in a great atmosphere. With free talks in the Speigeltent (great name) and cutting edge cabaret show, Le Haggis, the secret garden gets the Fringe off to an amazing start.
Let Battle Commence!
The Pass of Killiecrankie near Pitlochry will once more play host to tales of the gruesome battle fought nearby. Interactive talks by National Trust for Scotland countryside on Wednesday, August 5 describe the earliest of Jacobite uprisings, with craft activities for children afterwards. Call 01796 473233 for details.
Tay in the Park
It's the first birthday for the new refurbished Taypark House and they have quite the celebration planned! On Saturday, August 1, a mini festival will begin at noon, with a BBQ, live music, kids' entertainment and a gin bar! Click here for tickets, which include a welcoming drink and BBQ plate.
Summer At Drygate
Wash down the great festivities of the Merchant City Festival with a brew and a burger from Drygate. On Sunday, August 2, their Summer Barbecue (weather permitting!) is serving up Scottish beef burgers, meathook sausages and lots of delicious veggie options. Don't forget to check out the Urban Market, too, which is a must in any weather!
Speyfest Sunday
Speyfest kicks off on Friday, July 31, and on Sunday, August 2, there's a full day of ceilidh bands, folk bands, dancers, fiddlers and many more to get your toes tapping! Gates open at 12.30 pm in Fochabers, and tickets are a mere £20 for a full day's entertainment. Do look up the rest of their packed programme, too.
Art For Free
The UK's largest annual celebration of visual art is the Edinburgh Art Festival, running July 30 – August 30, which brings together the capital's leading galleries, museums and spaces. A definite highlight is Glasgow-based artist, Marvin Gaye Chetwynd's performance installation The Improbable City.
Variety Gala
On the final day of the AIYF (Saturday, August 1) a selection of music, dance, song and theatre from the past nine days of the festival with come together at His Majesty's Theatre. The Variety Gala 2015 will include groups from Scotland, Russia, Norway, Australia, Hong Kong and many more so don't miss out!
Dinos in the Dark
Take a guided, night-time walk around RZSS Edinburgh Zoo's Dinosaur's Return! exhibition on Wednesday, August 5. Discover how the team created the immersive prehistoric landscape, from choosing plant species to developing landscapes for different dinosaur habitats and eras – this fascinating tour can be booked here.