Exit Stage Right!
---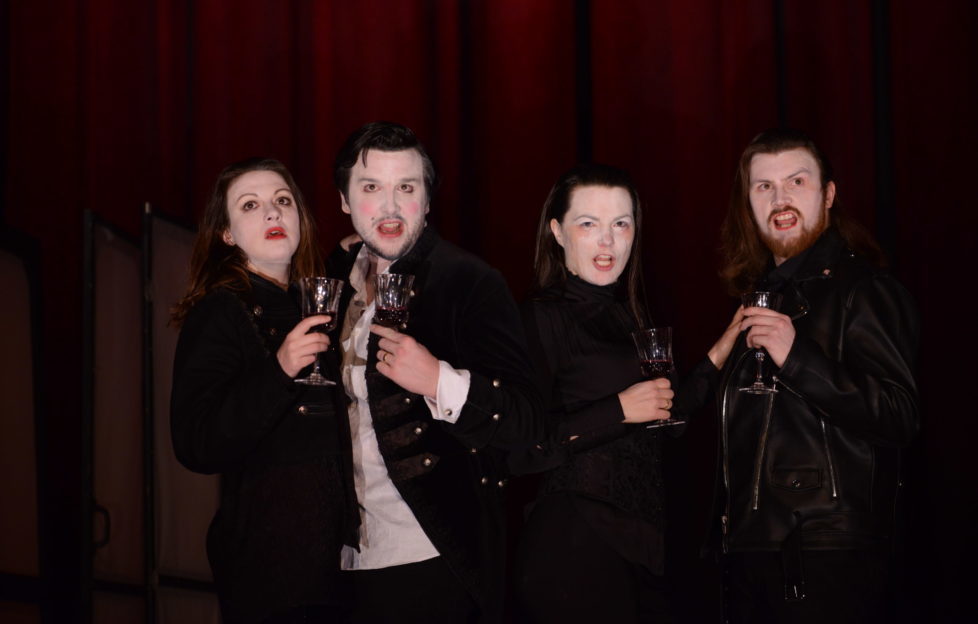 Catherine Backhouse, William Morgan, Máire Flavin and Benjamin Lewis mid-performance. Pic: Tommy Ga-Ken Wan
Catherine Backhouse describes Scottish Opera's last week of touring with Opera Highlights – and the challenges of switching stage sizes!
After the week of 'snowmageddon' and our extended stay in Shetland the Opera Highlights gang was very happy to get back on the road in our much loved tour van – nicknamed Babs! This time we were en route to Fort William.
Our mobile phones are all full to capacity from vainly trying to capture the sheer quantity and quality of Scotland's beauty that we have encountered. This drive was another stunner, with frozen waterfalls and snowy peaked mountains disappearing into clouds. The Lord of the Rings soundtrack was an apt choice for the van that afternoon!
Stages of all shapes and sizes
One of the challenges of touring a show is the variety stage shapes and sizes that we have to work with.
Ballachulish was our smallest yet, and having no left wing – all entrances and exits had to be adapted to the right. I remembered until the final curtain call when I very confidently attempted to exit left followed by a swift about-turn!
One clever aspect of our set design is that the six double screens can be unhinged and separated to effectively half the width of the set. This led to some funny moments! The closeness of other cast members and props occasionally took us by surprise, but it certainly keeps it fresh and alive!
A whisky stop in Pitlochry
We had another spectacular drive east to Pitlochry with just enough time to stop off at a distillery for one of many delicious drams enjoyed on tour!
The stage at Pitlochry Festival Theatre could not have been more different to the last. It was the widest yet, adding many more strides to all of our journeys! I had visited this excellent theatre years ago on a school trip, so it was nice to be back. My parents in the audience, which was lovely.
After performing in so many far-flung towns, it felt odd for our last show to be back near Glasgow! I was pleased to be able to invite friends along to the Rutherglen performance. A supportive group from Scottish Opera came too which gave the whole occasion a celebratory feel.
I am very sad that the tour is over. The show was so much fun to do and I could have happily kept on doing it.
Being welcomed into so many communities across Scotland, many of them in smaller places was a very special thing. We couldn't have asked for warmer responses from our audiences!
Click here for more backstage blogs from Scottish Opera's Opera Highlights tour,
and click here to see them in action!
---
More!
For tour information
and more backstage blogs from the cast and crew,

click here

!