Explore East Lothian with the John Muir Coast Festival
---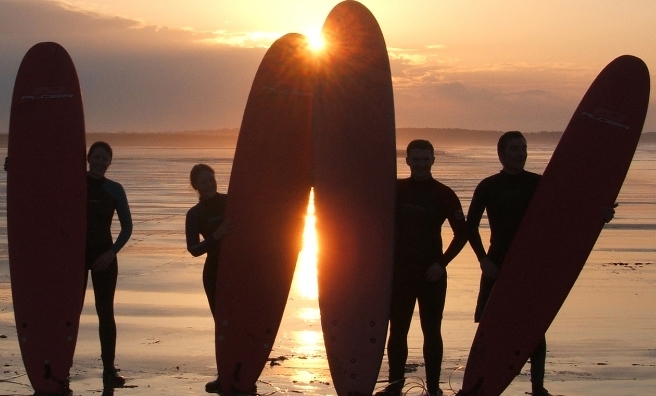 Sunset surfers in East Lothian, preparing for the surfing competition during the John Muir Outdoor Festival
From 22-24 April, 2016, Dunbar's great conservationist will be celebrated throughout East Lothian at the John Muir Coast Festival.
On Friday, April 22, Dunbar Golf Club,working with the Night Golf Company, is hosting an evening golf tournament, a concept that has come from the USA, where LED lights light areas of the golf course and golf balls are fitted with LED lights. To order tickets, click here.
Golf stays in the spotlight the next day, when Archerfield Links' Nike Performance Fitting Centre, which provides world-class facilities for teaching golf, will run a series of clinics and fun events for golfers of all ages and all skill levels.
Opportunities to try water sports
From Saturday, April 23 until Sunday, April 24, John Muir Country Park Water Sports Festival will include a surfing competition as well as opportunities to try water sports for the first time, including surf, coasteering, sup and surf-skate lessons. There will also be nature walks and trails highlighting the natural wonders of the East Lothian coastline.
In addition, on April 23, Foxlake Adventures is holding the Foxlake Ultra Marathon and Family Fun Day. A 50km Ultra Marathon will be run along the John Muir Way from Port Seton to the Foxlake site, stopping off at The Walled Garden, Archerfield. The Family Fun Day will feature wakeboarding, the Fox Fall Course and zorbing, as well as live music and fireworks. food and music performances, concluding with a fireworks display over the lake.
Scotland's first Rockstacking Competition
Also on April 23, the Dunbar Trades Association will have a beachside concert with interactive art installations and Scotland's first Rockstacking Competition. John Muir used to build stone cairns on his walks across North America, a pastime which is celebrated at the annual World Rockstacking Championships in Texas.
For more information, click here.