It's Fair Game For Scone's Early Birds!
---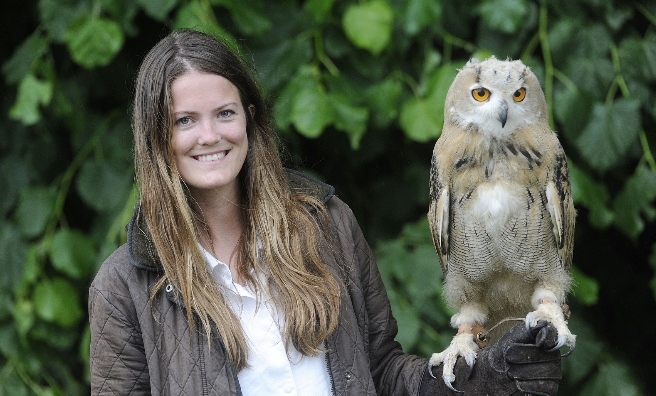 Rosie Drumm with a Siberian Eagle Owl chick at The Scottish Game Show
The Scottish Game Fair returns to Scone Palace in Perthshire from July 3-5 – and for those keen to bag a bargain, early birds can snap up the added value ticket offer of £36 for a family of four, plus free parking.
The Early Bird ticket offers, which are available from 29 January until 30 April , gives two adults and two children (aged 5-15 years) an exclusive 10% discount on the gate price with the added benefit of a free Gold Parking pass, worth £12. Alternatively, two or more adult tickets are available for £34 per pair, with free Gold Parking.
Scotland's largest game fair
The Game Fair is Scotland's largest game fair and best annual outdoor show. Now in its 27th year, The Game Fair is host to an array of lively shows, competitions and outdoor events for all the family – including gnat shooting, clay shooting, terrier racing, gun dogs, hill ponies, falconry and fly fishing – as well as over 300 traders selling crafts, clothing, equipment and sporting goods.
In addition, The Game Fair will celebrate the Year of Food & Drink with special chef events and cookery demonstrations and the return of the Food Hall, which showcases the best of Scottish produce.
The essence of Scotland's natural heritage
Run by the Game & Wildlife Conservation Trust (GWCT), The Game Fair captures the essence of Scotland's natural heritage and presents an excellent opportunity for all to engage with the countryside and discover more about the importance of conservation, Scotland's game and wildlife management and sports.
"Tickets are already selling fast," said The Game Fair's director, David Noble. "We are looking forward to welcoming thousands of visitors from Scotland and further afield to enjoy this fantastic long weekend celebrating Scotland's great outdoors."
For more information about The Scottish Game Fair, or to purchase tickets, click here.
For lots more ideas about places to go and things to do, pick up a copy of this month's Scots Magazine – in the shops now or order online by clicking here.
---
GWCT
The Game & Wildlife Conservation Trust (GWCT) is an independent wildlife conservation charity.
The GWCT carries out scientific research into Britain's game and wildlife, advising farmers and landowners on improving wildlife habitats and lobbying for agricultural and conservation policies.
The GWCT employs 14 scientists and 50 other research staff with expertise in areas such as birds, insects, mammals, farming, fish and statistics.