First Dinosaur Arrives at Edinburgh Zoo!
---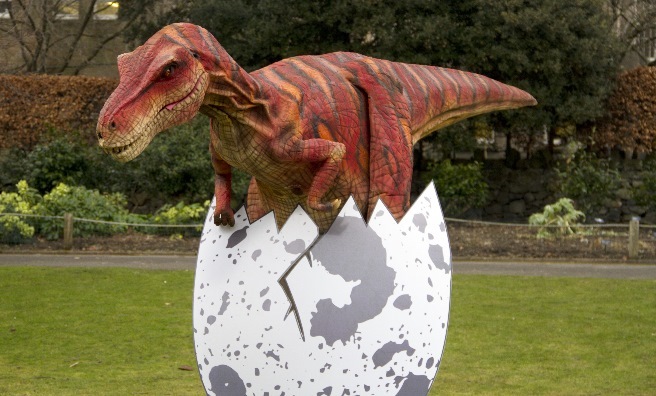 Velma The Velociraptor hatches out of her egg to make her first appearance at Edinburgh Zoo
The first dinosaur in thousands and thousands of years has hatched at Edinburgh Zoo!
Velma, who is a velociraptor, emerged from a giant dinosaur egg on Friday 13 February but, unfortunately, she's not quite as real as she looks!
Velma is an early arrival from Edinburgh Zoo's six-month dinosaur exhibition Dinosaurs Return!, which begins on April 3, 2015 and features 14 life size animatronic model creatures.
Eelven adult and two baby dinosaurs will take up residence in the nest at the top of the hill, where Zoo staff are currently working hard to create a specially-designed landscape, with huge rocks and impressive foliage to create the creatures' habitat.
Look out for Velma The Velociraptor
In the meantime, Velma, accompasnied by her specially-trained keeper, will be making appearances at Edinburgh Zoo and various landmarks and attractions across Edinburgh and Glasgow over the coming weeks. Look out for Velma The Velociraptor at Dynamic Earth, the National Museum of Scotland, Ocean Terminal, the Gyle and Buchanan Galleries.
A chance to discover a lost world
When it opens in early April, Dinosaurs Return! will offer visitors to the Zoo a chance to discover a lost world with the aim of raising awareness about the very real threat of extinction faced today by many endangered species.
Tickets to Dinosaurs Return! will shortly be released – to book, please click here.
For lots more ideas about places to go and things to do across Scotland, pick up a copy of this month's Scots Magazine – in the shops now or order online here.