Five Guys Named Moe Take Edinburgh By Storm!
---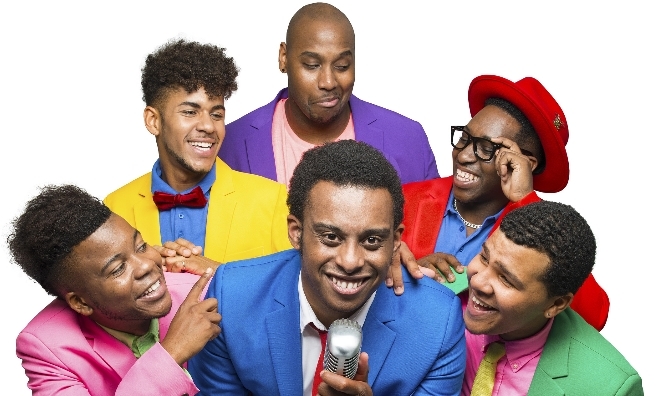 Five Guys Named Moe - in Edinburgh's Speigletent until January 7, 2017.
From now until January 7, Five Guys Named Moe, which is based on jazz legend Louis Jordan's greatest hits, is at Edinburgh's Festival Square Theatre.

This exciting new production of Five Guys Named Moe, which is an Underbelly Productions in association with Cameron Mackintosh, is one of the highlights of Edinburgh's Christmas 2016.
A whole lot of soul, music and infectious energy!
First seen at the Theatre Royal Stratford East in 1990, this Olivier-award winning musical tells the story of Nomax.
Newly single and broke, Nomax finds solace in the Five Guys Named Moe (Big Moe, Four Eyed Moe, Eat Moe, No Moe and Little Moe), who emerge to rouse him from his misfortunes with a whole lot of soul, music and infectious energy!
Packed with an uplifting live soundtrack of soul, blues, gospel and early r 'n' b, and led by the all-singing, all dancing Five Guys, this high-octane production of Five Guys Named Moe is the ultimate celebration to lift your soul.
The irresistible hits of Louis Jordan
Five Guys Named Moe is directed by Paulette Randall MBE, who, alongside Danny Boyle, was Associate Director of London 2012 Olympics Opening Ceremony. The hit musical was written by Clarke Peters, who appeared in the HBO tv show The Wire and starred in Porgy and Bess and Chicago in London's West End.
Five Guys Named Moe features the irresistible hits of Louis Jordan, including Early In The Morning, Choo Choo Ch'Boogie, Is You Is or Is You Ain't My Baby and Saturday Night Fish Fry – all performed on stage by a fantastic live band.
Look out your dancing shoes – you won't be able to resist!
Tickets are available to book here.
---
Let The Good Times Roll!
From the moment Five Guys Named Moe burst onto the stage in a blaze of techincolour to redeem the decidly sepia-toned Nomax, this show sparkled!
Fabulus dancing, excellent singing, a wonderfu band, an amazing set which used every inch of the speigletent Five Guys is performed and a feel good factor rating of 10/10. The story is simple but very well told, with lots of humour and breathtaking split second timing which highighted just how well this cast work together.
And to top it all… We were able to join in with a couple of the hit numbers – and almost everyone in the audience joined in with the conga that led to the bar at the interval! And I'm delighted to reveal that I even did a few nifty dance steps with Little Moe!