Focus On Glasgow – Mural Trail
---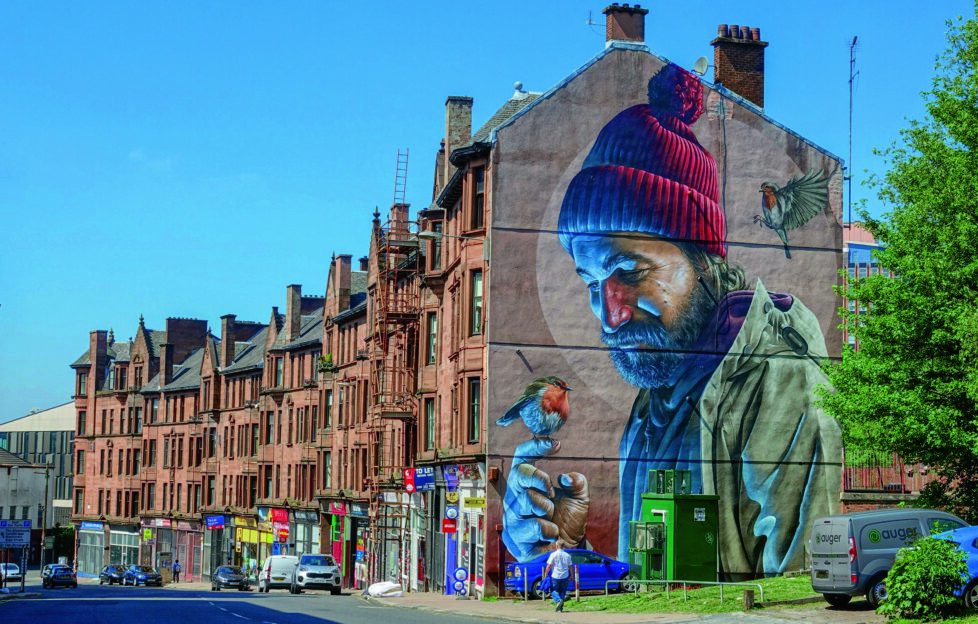 PFXGYX Modern day saint Mungo mural, High street, Glasgow, Scotland
Follow Glasgow's stunning mural trail dotted right across the city…
Glasgow's City Centre Mural Trail is a collection of 29 stunning pieces of art painted on the sides of tenements, offices and businesses. The first mural was painted in 2008 and, in 2014, the trail was established with a guide map for visitors to explore and appreciate the work of local artists.
Jane Laiolo, from Glasgow City Council, says, "The reason we set up the trail was to promote some of the fantastic street art that's been developed over the last few years in Glasgow.
"We want to provide an opportunity for artists to showcase their talents across the city in prominent locations."
Artist Bobby McNamara, aka Rogue One, has painted or been involved in 10 of the murals on the trail – including two specially-commissioned paintings of actor and comedian Sir Billy Connolly. "The general perception of all these murals is very positive. I haven't had any bad comments," Bobby says. "People get the idea that when something this big is happening, it's about to turn into one of the murals."
Here we take a look at five of the very best.
Saint Mungo
Located on Glasgow's High Street near the University of Strathclyde, this piece by artist Smug is a viral sensation. The mural, finished in 2016, was shared 1.5 million times on social media in a week of being completed. It depicts Saint Mungo, the patron saint of Glasgow, as he might look today with a robin – a reference to the bird that never flew, which tells of Mungo as a child rescuing a fallen robin, as seen in Glasgow's Coat of Arms.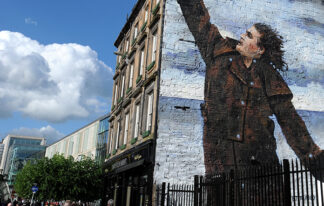 Dr Connolly, I Presume?
One of Rogue One's two paintings of Billy Connolly. This particular piece is situated just off St Enoch Square, the site of the popular shopping centre. The mural was commissioned by BBC Scotland as part of the TV show Billy Connolly: Portrait Of A Lifetime in 2017 and is a reproduction of a 1994 portrait of Connolly near John O'Groats by artist Jack Vettriano.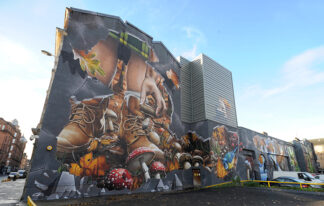 Fellow Glasgow Residents
Glasgow is known as the Dear Green Place due to the number of fantastic parks and green spaces dotted around the city, which is celebrated on this Ingram Street mural. Another by artist Smug, this piece shows many of the city's wildlife residents peeking through the wall. You'll find badgers, foxes, hedgehogs, squirrels and even deer in this larger than life painting, celebrating one of many things that makes Glasgow great.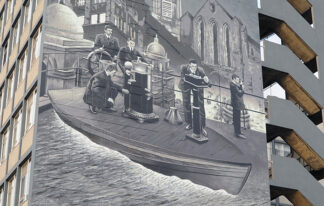 Strathclyde University
A collaboration between artists Art Pistol, Ejek and Rogue One, this 200-metre long piece honours the success of alumni of the University of Strathclyde in its 225-year history. Known as the 'Wonderwall', this mural was erected back in 2014 and shows the Dansken equatorial telescope, which taught nautical astronomy and the Land Ship, which taught students about compasses. The artwork celebrates the University's proud history, and how it has developed many important minds over the generations.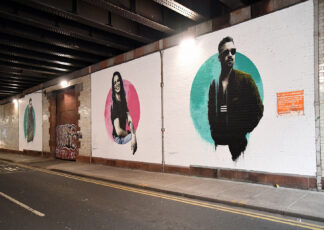 Portrait Gallery
These colourful pieces were painted by artist James Klinge, and can be found across from The Arches, a former nightclub and current arts venue, below Glasgow Central Station. The portraits with colourful circles on a bright white background show just a small sub-section of Glasgow residents and light up what could be seen as a dingy alley.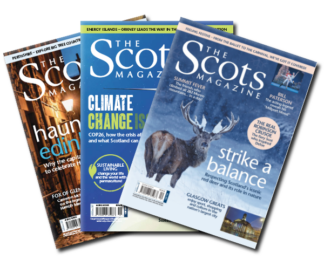 This is an excerpt from our December magazine. Discover more
(CLICK HERE)
Take a look at the full mural trail www.citycentremuraltrail.co.uk