Follow Up Focus: Dundee
---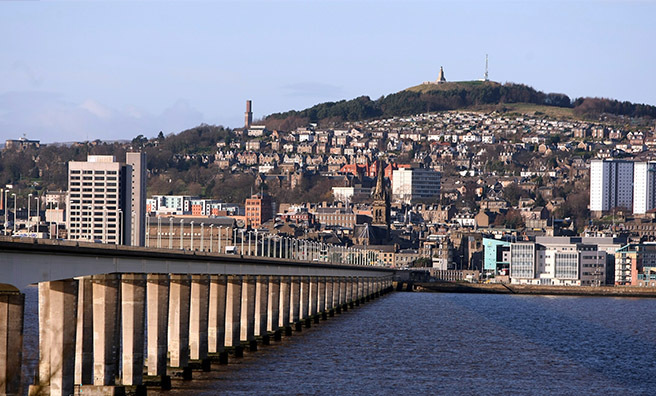 This industrial city was once the jute capital of the world, and reminders of the 19th century industry can still be seen today…
1820 was an auspicious year for Dundee for it was then that the first bales of jute were unloaded at the docks to change the city's destiny forever.
Weaving, whaling and shipbuilding became the mainstays of Dundee's industrial traditions, and all three worked together to make Dundee the jute capital of the world.
The whaling fleet supplied the oil that was needed to soften the jute before weaving, and the shipbuilders on the Tay were put to work to build a fleet of fast, powerful ship to bring the jute from the Indian sub-continent to Dundee.
Employment soared as mills were built to satisfy demand, with women often outnumbering men by as much as three to one. Wages were low and the only people making money were mill owners – the jute "barons".
Reminders of the city's past
Evidence remains in mill buildings saved from demolition and turned into flats. The huge houses owned by the barons still survive, many also turned into flats or split into two residences.
Perhaps the most striking reminder is Cox's Stack, a huge chimney that dominates the city skyline and which was once part of the Cox Brothers' Lochee mill (see image on right and above). But if you want a real insight into the world of jute, Verdant Works is the place to go.
Based at a former mill in the Blackness area of Dundee and purchased by Dundee Heritage Trust, it is a fascinating museum dedicated to the weaving industry.
IIt covers topics such as manufacturing, the development of jute, the lives of the workers and the social history of Dundee in the 19th century where the city led the way in textile manufacturing.
Guides, some of whom are ex-mill workers, will give you a deep insight into one of the three "Js" that made Dundee famous. Once it was jute, jam and journalism but in Dundee only the latter remains.
Don't miss…
While you are in the Blackness area, you might what to pop up Balgay Hill and visit the Mills Observatory? Situated on top of the hill, it opened in 1935 and was Britain's first purpose-built public observatory.
On the other side of the city, the east side, lies Broughty Ferry. It has an identity all of its own and has a splendid range of shops, pubs and restaurants – not to mention Broughty Castle Museum! There are regular bus services to and from the city centre.
Dundee is also a great centre for golfers. It has Camperdown, Downfield and Caird Park courses within its boundaries but has Carnoustie, Kirriemuir, Blairgowrie and St Andrews – to name but a few – within easy reach.
Pick up a copy of The Scots Magazine's June issue for seven pages of Dundee highlights, including interviews with footballer Lee Wilkie and director of Dundee Contemporary Arts, Beth Bate.

For events and more information on any of the above visit the Leisure and Culture Dundee website.