Focus On Inner Hebrides – A Sweet Spot For Bees
---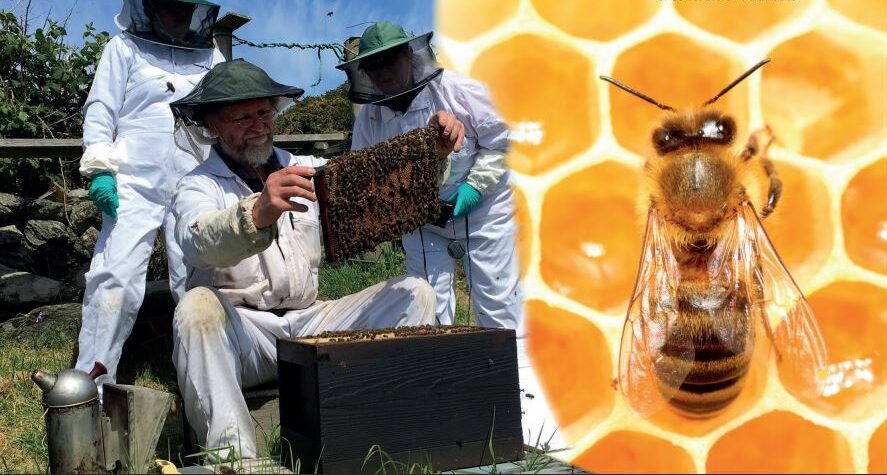 Colonsay is the ideal location for bee conservation and offers honey that is bursting with the very essence of the Hebrides…
There are many traditions on the islands of western Scotland – music, folklore, culture, history – but how many can add honey bees to this list?
Due to its isolation Colonsay has had a long tradition of bee conservation, starting in the 1940s when Joseph Tinsley, bee inspector for the West of Scotland College of Agriculture, began breeding Apis mellifera mellifera on the island – or the black bee to you and me.
This project continues to this day, with Andrew Abrahams the sole beekeeper on the island in charge of 60 stocks of black bees. It was his campaigning that saw the Scottish Government pass legislation in 2013 to make Colonsay, and neighbouring Oransay, a reserve for the native black bee.
"I was fighting a one-man war to a certain extent," says Andrew. "No-one else was interested and I more or less pestered the authorities to pass the legislation."
The success of the bee project on Colonsay is a lot to do with the island's size. "If the island is a large one, like Mull or Skye, you are bound to have quite a few beekeepers," he continues.
"Co-ordinating and keeping beekeepers together is like cats in a bag. So from that point of view, if it's too big, it's a problem.
"Colonsay sits perfectly in the sense that I am the only beekeeper and it has enough forage for the bees, all through the year. The weather is always a problem, but if it's a half-decent day and the gorse is out through spring and summer, there's a variety of forage for the bees."
Dunoon-born Andrew's life as a bee-keeper wasn't planned. A degree in agriculture saw him teach abroad for a few years before he became involved in the seafood industry.
The island hives had lain empty for years before Andrew took them over and experience in Heather Hills Honey Farm in Blairgowrie gave him the impetus, and the courage, to reintroduce the black bee to Colonsay.
That was in 1976 and now more than 40 years later, Colonsay is a world leader in bee conservation.
Andrew is keen to spread the word about Colonsay's bee connection and arranges bee-keeping courses, with the emphasis on learning to handle the insects gently. This ranges from basic biology to the careful extraction and handling of honey.
And when it comes to honey Colonsay makes some of the best! Nectar for the honey comes from sycamore and bluebells in spring, hawthorns, bramble and clover in summer and heather in the autumn. Each spoonful is full of Hebridean goodness.
Colonsay lies to the west of Jura and to the north of Islay, and is accessible by ferry from Oban or Port Askaig, Islay.