Focus On Uist
---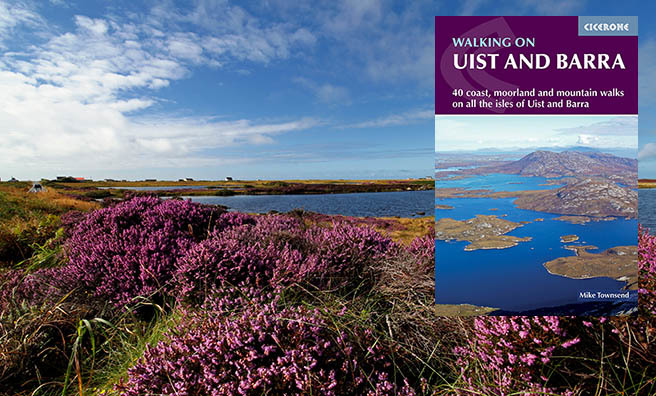 istock - Heather field near a loch on Benbecula, Outer Hebrides, Scotland.
Walking, cycling, and exploring Benbecula – plus your chance to win a copy of Walking on Uist and Barra!
Cicerone's latest guidebook, Walking on Uist and Barra, contains a brilliant section on bonnie Benbecula – a generally flat island, with charming peaks and troughs from east to west, across vast moorland and machair.
The book also describes a variety of walks – mostly easy and leisurely – on Berneray, Grimsay, the Uists, Vatersay, Barra and Mingulay.
If you didn't already know, Benbecula translates from Gaelic to mean "mountain of the fords!"
But where's the mountain you ask?
The highest point, Rueval (Ruabhal), is a tiny 24 m (407 ft) high. However, you do get a stunning 360 degree view from the top.
Looking out over Benbecula's waters, you'll spot its many beaches, islands, and a few neighbouring mountains – which are a tad more prominent and impressive than wee Rueval.
On the other hand, the ford connection is pretty obvious. The fords – North Ford and South Ford – once linked the island to North and South Uist respectively.
Now, two causeways are the links, with the north Ford Causeway being a five-mile arc of single-track road.
Like many of the Outer Hebrides archipelago, Benbecula is dotted with lochans and framed by beautiful sand dunes.
There are two ways to explore this beautiful part of the Outer Hebrides – by bike or by foot.
But if you really don't fancy pedal-power, Walking on Uist and Barra, has outlined all the best walks and sights for you to enjoy.
So don't miss out!
We have five copies of Walking on Uist and Barra to give away! Just fill out the form below, and soon you too could be on foot across beautiful Benbecula and beyond.