The Forth Road Bridge
---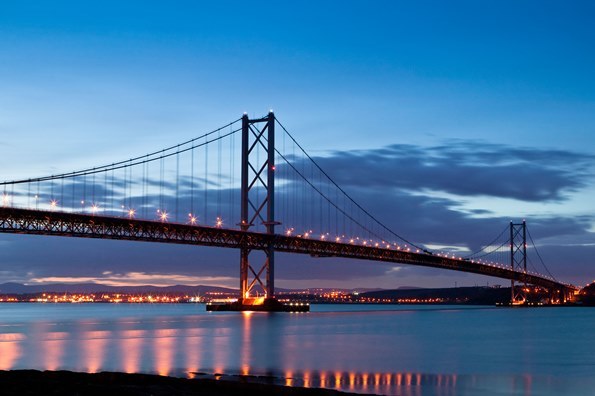 Forth Road Bridge
After a sudden closure, it has been announced today that the Forth Road Bridge will be reopening before Christmas!
The bridge has been closed to all vehicular traffic, pedestrians and cyclists since December 4 due to structural issues, and it was originally planned to open again in January 2016.
Emergency repair work started immediately, and steel splints have been installed to support the cracked truss found under the carriageway.
On Saturday, December 19, lorries were sent over the bridge in different patterns over five hours of load-bearing tests, and it was judged that the bridge was fit for partial reopening to all traffic except HGVs, almost two weeks ahead of schedule.
Ongoing repairs
Usage of the bridge has increased year on year since its opening in 1964.
In 1965, the first full year of operation, 2,282,308 motorists crossed the bridge – by 1996, the figure had risen to 10,168,002 and, by 2013, it stood at 22,929,495.
Because of this, work began as early as 1990 on strengthening the bridge's twin towers to cope with the increased weight of traffic while, six years later, work was undertaken to improve defences against colliding ships – which had to be scheduled around the breeding patterns of a colony of rare roseate terns nesting on nearby Long Craig Rock!
By 2004, the main cable of the 40-year old suspension bridge was checked for signs of corrosion. The Bridge Authority was surprised to discover that 8-10% of the cable's strength had been lost thanks to corrosion and work began immediately to prevent further loss, while the level of corrosion was also used as significant evidence to support the construction of the new 21st-century road crossing.
Sadly, this was not enough to prevent the bridge's emergency closure this year due to a cracked truss under the carriageway.
It is as yet uncertain whether the reopening will be extended to HGVs, but in the meantime commuters and Christmas shoppers can breathe a sigh of relief that one of the main routes into Edinburgh is now open again. 
---
Queensferry Crossing
The Queensferry Crossing now rises to the west of the Forth Road Bridge, projected to take on the majority of vehicular traffic crossing the Firth in 2016.
Proposals for a second Forth road crossing were first put forward in the 1990s, but it was not until the discovery of structural issues with the Forth Road Bridge in 2005 that plans were moved forward.