From Plot to Plate – Grow Your Own Food Takes Root Across Scotland
---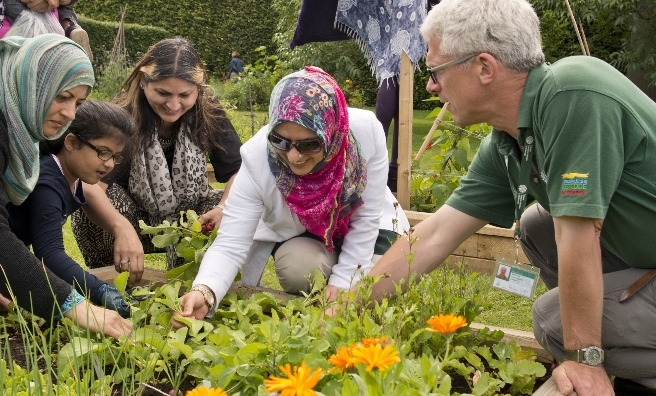 The Edible Garden at the Royal Botanic Garden Edinburgh.
Edible gardening projects are springing up in gardens all over Scotland. From window boxes and crop containers to allotments and private gardens, plant enthusiasts are increasingly challenging themselves to grow their own food.
"We're seeing a steady rise in community cooperatives and edible gardening projects across town and city neighbourhoods," said Catherine Erskine, Chair of Discover Scottish Gardens, a national network that boasts a wide-reaching membership of over 150 gardens and garden-related businesses across Scotland. "People are increasingly sharing private and public gardens and allotments to regain valuable skills and rediscover the joys of growing your own produce.
"At the moment, the movement is unquantifiable as a lot of these gardening projects can be as small as jam exchanges and small-scale vegetable sale. However, we hear from gardeners that these exchanges, sales and gardening projects are happening and that more and more people are getting engaged."
'Nurturing a plant from seed through to fruition and then serving it to friends and family'
New Market Gardener for the Edible Garden at the Royal Botanic Garden Edinburgh, Benjamin Dell, said: "Edible gardening has become so popular because it's fun and rewarding – there's great satisfaction in nurturing a plant from seed through to fruition and serving it to friends and family.
"The visitors' response to our edible gardening events and demonstrations has been very encouraging and we expect participant numbers to further increase in the future. We are thrilled to be able to inspire people to try something new, whether this means growing a few herbs on the windowsill or trying out a new crop or variety on their allotment."
Edible gardening projects
In line with this trend, numerous members of Discover Scottish Gardens are delivering their own edible gardening projects, offering visitors advice, crops, planting workshops and demonstrations.
"We feel that growing your own is linked intimately with cooking and eating your own produce which is reflected in our current edible gardening project called Potager to Plate," said Dougal Philip at New Hopetoun Gardens in West Lothian. "As part of this project, we provide information on what can be planted each month and what you might be harvesting, along with suggested recipes for the produce."
To find out more about seasonal events and garden tours in your area, click here.
---
Discover Scottish Gardens
Discover Scottish Gardens aims to highlight Scotland's diverse garden offering and to inspire more people to discover new gardens, nurseries and garden tourist businesses.
Founder members of the Discover Scottish Gardens network include the Royal Botanic Garden Edinburgh, National Trust for Scotland, Brightwater Holidays, Scotland's Gardens, Attadale Gardens and Cambo Estate.
---
Edible Gardening Projects
Other edible gardening projects can be found at Attadale Gardens, Cambo Estate, Castle Fraser, Culzean Castle, Dun Ard, Earl's Hall, Floor's Castle, Geilston Garden, Harmony Garden, Kailzie Gardens, Lip na Cloiche, Pitmuies and The Torridon.