Garden Design | The Bonnie Gardener
---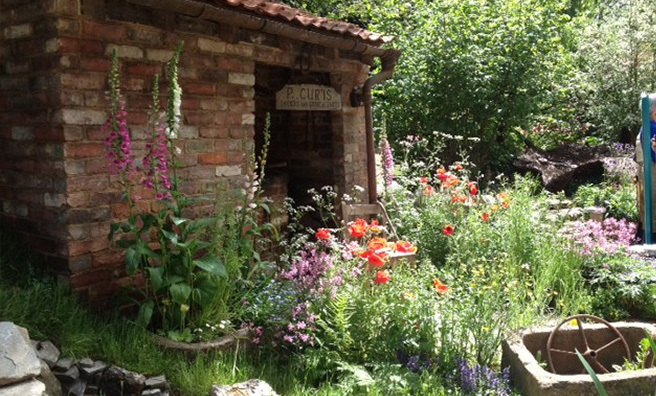 Nicola finds inspiration for garden design in the Chelsea Garden Show 2015
There's a lot to think about when it comes to designing your garden, and that is something that became very apparent to me when I visited the Chelsea Garden Show this year.
The artists exhibiting on Main Avenue have just 19 days to transform a concrete paving area into a stylish, fully fledged garden where their carefully selected plants will be in peak condition for a week long display.
A solid theme, wise plant choice and timing, are all key
My personal favourite at Chelsea 2015 was the L'occitane perfumer's garden – a quintessentially French cottage garden full of richly scented peonies, lavender, iris, bergamot, and fig and rosemary hedges.
Quite deservedly, it won a gold award from the RHS for its concept and beautiful plant varieties, structure and organisation.
Gardening and garden design is definitely a form of art. I'm a firm believer that a garden should reflect the personality and lifestyle of its owner.
While I have huge admiration for formal gardens featuring straight lines, careful flower choices and strict colour palettes, anyone who knows me will understand why I'm a much bigger fan of a cottage garden which grows wild and free and is peppered with different scents, flowers and wildlife. It's probably a reflection of my untidy tendencies.
Gardening is a form of expression
I often find this translates into me getting carried away with new ideas.
When I got home from Chelsea, I had a very strong urge to get straight into the garden and transform it into something resembling the theme of L'occitane's. However, I managed to hold back – as, quite frankly, an overgrown and dried out perfumers garden simply wouldn't work for me, and it would also be highly impractical.
That leads me onto the first and most important principle about garden design – your garden should meet your lifestyle needs.
Whether you want a space to be admired from a conservatory, somewhere to grow your own vegetables or a patio for a summer barbeque, make a list of your basic requirements, then draw some pictures to visualise how this will look.
Pencil in your 'must haves' – whether that's a bench or seating area, a set of football goals, or an archway covered in roses.
Personally speaking, my basic garden requirement is to have an outdoor space to unwind and relax after a working day, as well as somewhere to enjoy colour, texture and scent.
I want to come home from a busy day in the office, enjoy an al fresco dinner and read a book in the evening sun. That translates into a few basic staples – a table and chairs, some pretty flowers and the sunniest spot available.
Building on your current space
Last year I moved house and was lucky to inherit a well-established and maintained perennial garden.
The best advice I received from fellow gardeners was to spend a whole year observing the plants before making any significant changes (although one or two won't go a miss).
Over the year I've been pleasantly surprised with some of the herbaceous offerings that have cropped up, and now I know what I have I'm in a good place to make some more serious alterations.
With garden design, choosing the correct plants is also vital – not only for aesthetic reasons but to ensure your plants aren't subjected to unnecessary stress.
A simple and cost effective thing to do is to buy a soil PH testing kit from your local garden store to identify whether your soil is acidic or alkaline.
You can then access a huge number of different websites (the RHS is particularly good) to get a list of plants that grow well in that type of soil.
Once you've selected some of your favourite staple perennial plants to provide a steady supply of colour, structure and texture throughout the year, it may be an idea to look at annual offerings too.
I love a cottage garden feel, so a wild flower area with a plentiful supply of lavender would work a treat.
Fundamentally though, it's important to make a garden manageable. To keep weeds at bay, cover as much bare soil as possible, either with perennials, annual flowers or even with a natural mulch such as chipped bark.
There's an endless amount you can do to refresh the look every year – from wind chimes to wildlife hotels, bean bags to benches. The most important thing is to get creative and enjoy the process.
---
Seven top tips
Make a list of your basic needs and wants. Play space? Veg plot? Patio?
Work around a focal point. It may be a sculpture or a fruit tree – everything else should stem from that.
Engage your creative side by  visiting your local botanic garden to see what grows well in different seasons.
Source plants from a local Scottish provider so they can survive the Scottish frosts. The staff there will be able to offer local advice.
Match your garden style with plant structure: wavy-edged boundaries for small cottages and bungalows, or stronger and more formal lines for larger houses.
If you want to draw the eye to your favourite plant, situate it near a step or slope where your eyes will go to the ground.
Don't be hasty. Take time to get to know a new garden or else you'll make decisions that may not work well in the long term.
---
More From Nicola
In Bloom