Glasgow in the Sky Takes Eating Out To New Heights!
---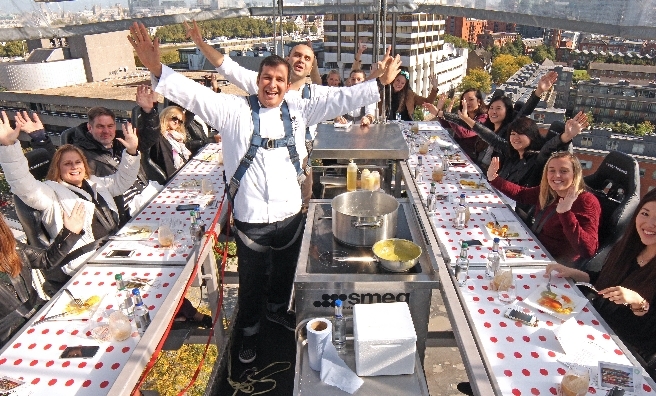 Dining out - and up! Look out for Glasgow In The Sky this summer.
In June, the arrival of Glasgow in the Sky will enable Glasgow diners to eat up!

Glasgow in the Sky will see the city's best restaurants transfer their menus and dining experiences to the unique 'Sky Table', suspended 100 feet above George Square by a mobile crane!
Glasgow in the Sky will run from June 15-18 2017. With nine sittings per day, guests wll have the choice of breakfast (£50), lunch (£125), dinner (£150), afternoon drinks (£75) and evening drinks (£75), with each restaurant taking part serving guests a menu of signature dishes.
'An unforgettable experience'
The full line-up of participating restaurants will be announced in February 2017 but Chaophraya, Scotland's best Asian Cuisine Restaurant 2015, are one of the restaurants that will be taking part. "Our partnership with Events in the Sky will take Thai to the next level," said James Hacon of Chaophraya. "This will be an unforgettable experience."
The Glasgow in the Sky table seats 22 guests, who are securely fastened into their seats before the table is raised 100 feet for this pop-up restaurant with a difference! During their gourmet experience, the head chef, sommelier and waiting team serve from the pop-up kitchen in the centre of the table whilst the restaurant is in the sky.
Sky-high eating experiences
Dining in the Sky was launched by Events in the Sky in London in 2014 and has spread across the globe, with sky-high eating experiences now on offer in many major cities around the world, including Los Angeles, Saint-Tropez, Kuala Lumpur, Brussels and Rome. And in the summer of 2017, events will be hosted in London, Newcastle, Bristol, Southampton and Glasgow.
'With the success of London in the Sky, we're looking forward to partnering with Glasgow's best chefs and restaurants," said Dale Agar of Events in the Sky. "Guests will enjoy a breathtaking dining experience with spectacular views of the city.'
For more information, and tickets, click here.