Glasgow International Festival
---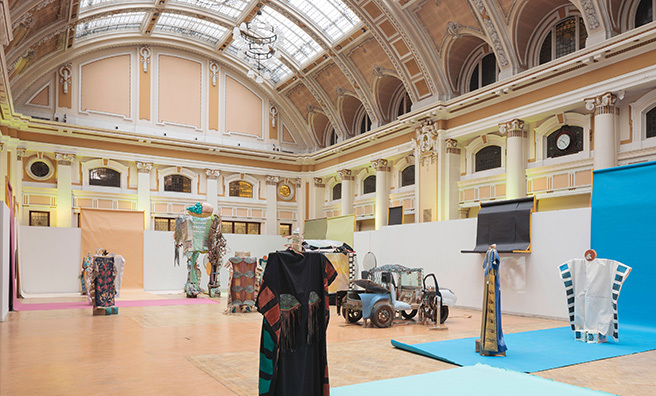 – Celebrating The City's Culture
Glasgow International is encouraging visitors to the city's museums, galleries and libraries
The festival runs until Monday, April 25, in over 75 locations right across the city exhibiting work by more than 220 of the best and most varied artists – on both a local and international level.
After a successful opening weekend, organisers are hoping the festival will put Glasgow on the map as one of the world's most important creative hubs for contemporary visual art – as well as celebrating the heritage of the city through the artworks on show and the venues themselves.
Homage to Heritage
Among the many locations is the Glasgow Tramway, which is housing a fascinating festival exhibition reflecting the cultural history of Glasgow.
Through their handmade textiles five artists pay homage to the city's industrial legacy in shipbuilding, metal-works, and textiles – as well as Glasgow's role as a key trading port.
"This year's programme encourages us to explore the city and the times we live in through the work of some of the most engaging artists working today," said Amanda Catto, Head of Visual Arts, Creative Scotland.
"We look forward to exploring everything that will be on offer throughout the city, in spaces that we already know and love and in places where we haven't yet been."
Many of Glasgow's current galleries and museums, including the Tramway, are reclaimed spaces from this wealth of industry,  so the theme of this year's festival is a fitting tribute.
Solo Exhibitions
Although it is impossible to pick one top exhibition out of the many on offer at the Glasgow International Festival, Aaron Angell's solo exhibitions are definitely ones not to be missed.
His first, located in Kelvingrove Art Gallery and Museum beside the great organ, features artworks in iron, assemblages of 16th-century furniture and other strange and beautiful exhibits accompanied by a theatrical programme of organ recitals.
The Botanical Gardens is hosting Angell's second exhibition of new ceramic sculptures, which are displayed in the National Begonia collection.
Other venues proving popular include the Mitchell Library, Glasgow School of Art, the Common Guild and the Gallery of Modern Art, where new instalments add an extra incentive for the public to visit these integral parts of Glasgow's heritage.
View the full line-up of exhibitions and locations, here.