Happy Christmas From National Trust for Scotland
---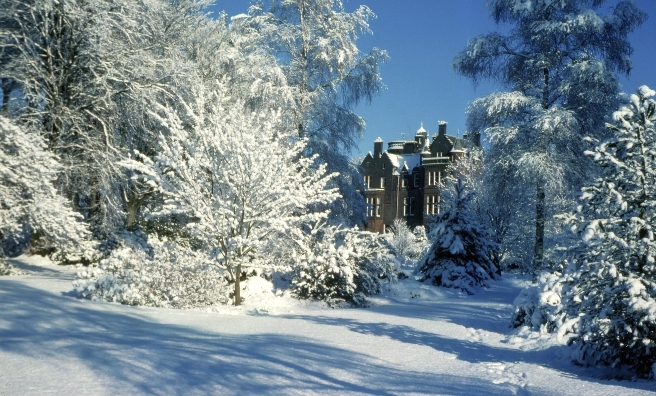 Threave House will be decked with holly for its special Christmas celebrations on December 5/6. Photo courtesy of National Trust for Scotland
The National Trust for Scotland launched its festive programme earlier this week at Gladstone's Land on the Royal Mile, Edinburgh.
A group of young Edinburgh visitors, including Euan Stevenson (8) and Poppy Duffy (8), unveiled the National Trust for Scotland's #GrabChristmas antlers. Visitors can upload selfies with the hashtag to social media and then be in with the chance of winning a special prize.
Sparkling programme of festive events
At the launch, the NTS unveiled its sparkling programme of festive events, which are taking place NTS properties throughout December.
At Gladstone's Land, the historic Old Town tenement is hosting one of the Trust's most magical Christmas events this year. On weekends throughout December, young visitors can fly an owl, just like in Harry Potter! With craft activities, storytelling and lots of festive treats, this is a Christmas event with extra sparkle.
The event runs on selected dates throughout December and tickets cost £18.50.
Visits from Mr & Mrs Claus
In Glasgow, Mrs Claus makes her annual visit to Pollok House to  ensure Christmas has all the trimmings! She'll be on hand to take Christmas wishes back to the North Pole and perhaps to hand out a few early gifts, too. Mrs Claus is visiting Pollok House from November 28 until December 24, when she'll have to dash off to help her husband! Tickets cost £6 per child.
Santa's taking time out from his hectic schedule to visit Threave Garden in Dumfries and Galloway on December 5 and 6. Beautiful Threave House will be decked with holly and ready to welcome visitors of all ages, with Christmas crafts, music and mulled wine. Tickets cost £5.
Magical Castles
Ayrshire's Culzean Castle will be brought to life with characters from some best-loved fairytales and pantomimes for its Mission Snow event, when visitors will be asked to help collect snowflakes on their special seasonal tour around the stunning 18th century castle, helping to make sure Culzean's Christmas is white.
The Magical Castle: Mission Snow runs on Sunday 6 and 13 December. Tickets cost £10 for adults, £7 for children, £30 for a family.
Castle Fraser in Aberdeenshire is hosting a Candy Cane Christmas party on December 12 and 13. With party games, Christmas crafts and a visit from Santa, this will be a fun-filled start to the festive season. Tickets cost £10 for adults and £12.50 for children.