Isle Of Harris Gin Bar Is Coming To Glasgow!
---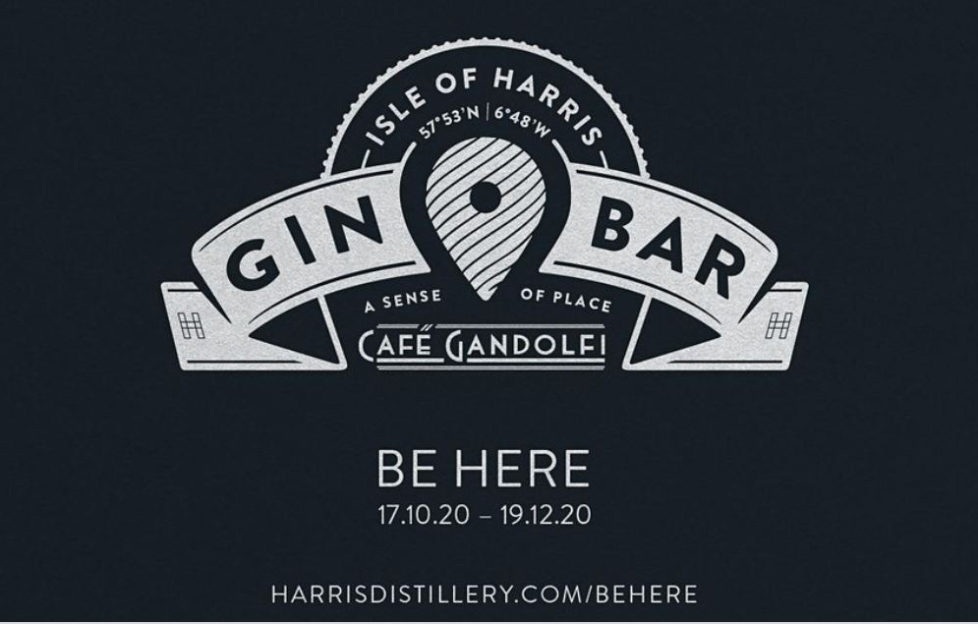 Café Gandolfi in Glasgow opens brand new Isle of Harris Gin bar, bringing a taste of the island to the city…
Tucked away in a cosy corner above the bustling Café Gandolfi and limited to 16 people per session, guests will enjoy an intimate Isle of Harris experience, where stories will be shared, connections created and guests encouraged to take a moment to indulge in the simple pleasures in life.
The Isle of Harris Gin bar will be open on 17th October and then every Thursday, Friday and Saturday evening up until mid-December 2020, operating on a ticketed basis. Admission includes a menu of expertly crafted drinks blending Isle of Harris Gin with innovative ingredients and cocktail-making techniques, designed to evoke a sense of the Hebrides and the island the gin calls home.
Guests will also enjoy a taste of Gandolfi's fresh seafood offering alongside the drinks. Each evening will be hosted by an Isle of Harris Distillery Brand Ambassador and a dedicated bartender making sure every guest is able to relax and enjoy that famous island hospitality.
Deagh Bhiadh, Deagh Bheannachd is a Gaelic proverb translating to "well-fed, well blessed." This simple, honest and nurturing aspiration will be adopted for the Isle of Harris Gin bar, speaking to the Hebridean values that both companies share.
The health and safety of guests is of utmost importance and the seating plan will be very carefully considered each evening. The bar will only be accepting bookings of up to six people from two households. If it is suspected that this rule is not being followed, guests may be turned away. The strictest measures will be taken to ensure the bar is operating well within the Covid-19 safe regulations.
Tickets are priced at £40 per head. This includes three bespoke cocktails and a sorbet, with three small and simple seafood pairings. Capacity for each session will be capped at 16 people. Session times are as follows:
Thursday and Friday: 6pm- 7.30pm, 8pm – 9.30pm Saturday: 4pm – 5.30pm, 6pm- 7.30pm, 8pm – 9.30pm
This event is for people age 18 and over. Isle of Harris Distillers will be operating a strict Challenge 25 policy. If guests do not wish to drink alcohol, an alternative can be prepared if advised in advance. The ticket price will remain the same.
Guests will have the opportunity to purchase bottles after the event. The space will be open as a dedicated gift shop, selling bottles of gin and giftware on Wednesdays from 10am – 4pm and Saturdays from 10am – 3.30pm. (These times will be liable to change.)
For more information and to buy tickets

(CLICK HERE)
Discover what's on this month across Scotland >>