Helly Hansen Phantom Mesh ½ Zip Midlayer – Review
---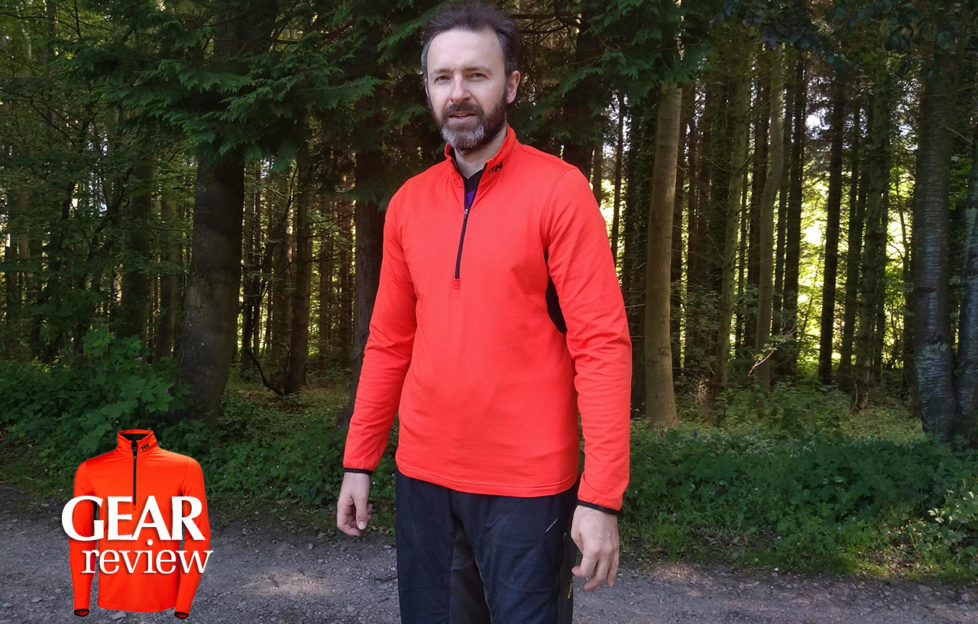 Brand: Helly Hansen
Price: £75
Star rating:

IN ALL HONESTY, I had to look up the definition of a midlayer to get a sense of exactly what I should be expecting from the Phantom Mesh. The reason being that since I've tested it through the spring and this disappointing summer, I've used it entirely as an outer layer over a merino base in everything except persistent rain.
It's obviously not fair to compare it against a purpose-specific outer shell garment, but I'd guess that for most people it will spend the majority of its life as your first line of defence against the elements – and it'll do a great job.
No, it's not windproof or waterproof, but it is warm (thanks to the light fleece lining) and breathable (thanks to the long strip of mesh down the middle of the back).
It dries quickly, should you need it to, and the short zip on the neck provides a simple but effective on/off cooling system.
The zip pull was a bit wee, even when I wasn't wearing gloves.
I don't think there's any situation where a chunky zip isn't better, except if you're trying to tuck the whole thing in behind a waterproof flap.
I'm tall, and I found the cut to be a good fit – though the thumbholes on the sleeves were in no danger of being anywhere near my actual thumbs.
Apart from that, though, there were no baggy bits to flap in the wind or bunch up under rucksacks, and I always think something that stays consistently close to the body is best for mid to high levels of activity.
The cherry tomato colour is a nice alternative to high-vis workman yellow, too.
Importantly, it didn't smell even after a few days' occasional use.
Synthetics can begin to pong before the end of their first day out and about, but the Helly Hansen stayed neutral for a few days when it had to.
No, it's not windproof or waterproof, but it is warm…
Favourite Feature
The cut – close to the body, but reasonably long, it was easy to move in but stayed put during active wear, even while wearing a rucksack or bum bag.
Least Favourite Feature
I would have been happy to just go for a run or ride in this top and a base layer, but it didn't have a pocket big enough for a phone, necessitating an additional bag.
Purchase the Helly Hansen Phantom Mesh Midlayer here…