The Riddle Of Gannets – Jim Crumley
---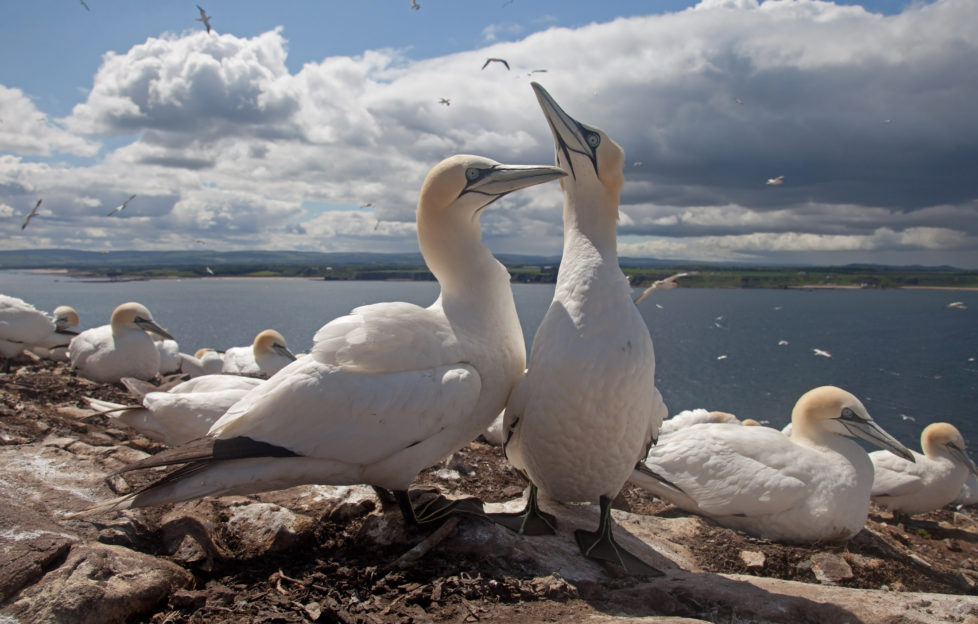 Bass Rock with thousands of gannet birds nesting Firth of Forth, Scotland. Credit: Shutterstock
Jim Crumley ponders why a trio of sea-going youngsters are
on the wing so far from their natural habitat
There were three large birds silhouetted against the sky, apparently making little headway against what was no more than a lively west wind. I knew what they looked like, but if I was right then there was no reason for them to be discomfited by such a wind and, in fact, no reason for them to be there at all.
Except that it had happened once before, about 20 years ago, in almost exactly the same place and at almost exactly the same time of year. That first time I was utterly thrown by the context in which the birds appeared – it was minutes before I realised what they were, though I had seen them many times in their true oceanic context – but not there, and not like that.
And now, this second time, I had the benefit of that old experience. Besides, the day before, I had been on the beach at Tentsmuir in north-east Fife and there I had been watching them by the hundred.
Here, however, is about as far from Tentsmuir, or any other ocean-going fragment of Scotland that you can get, for I was walking the Great Trossachs Path between Callander and Loch Lomond where it contours along the hillside to the north of Loch Venachar. And those three birds that rose out of the shadow of the Menteith Hills to become silhouettes against the sunlit southern sky, wore the unmistakable shape of gannets.
I had been admiring Woodland Trust Scotland's achievements in the art of native woodland renaissance. Golden leaves and sunlit squalls and rainbows illuminated and embellished that capricious meeting of landscapes. Highland and Lowland, mountain and low hill, rocky torrent and slow river rub shoulders, take their partners and dance to the music of the geological time – all along what I think of as the Highland Edge, but of course, it is no less the Lowland Edge.
For 30 years now, and more than 30 books, this has been my workaday nature writer's landscape. Asked why, I explain that it is a particularly fertile marriage of landscapes for nature, and that here the habitats and the wildlife tribes of both Highland and Lowland Scotland overlap and commingle. There is almost nothing missing.
And then, I always add ruefully – for I grew up within sight and sound and scent of the sea – nothing missing apart from sea birds, sea mammals, apart from the ocean.
So in addition to being a regular wanderer of the landscapes of the Highland Edge, I am also a restless traveller to my country's east, west and north coasts. But then, with the rarity of blue moons, something of the ocean travels to find me. There have been winter visitations from guillemots as far inland as the Lake of Menteith (the consequence of "wrecks" when a winter flock is driven ashore by storms at sea). I once met an arctic skua at Flanders Moss; and twice in 20 years now, just on the other side of the Menteith Hills at Loch Venachar, I have been stopped in my tracks by gannets.
The incongruous nature of these encounters is coloured by my familiarity with the landscape. Particularly since the transformative stewardship of the Woodland Trust began to bear fruit, I walk here almost every week.
It is a source of profound optimism for me as a nature writer, watching the land recover, the native woodland grasping the opportunity for renewal. I watch the birds, beasts, butterflies, bugs and flowers race up and across the hillsides; the return of black grouse; the increasingly frequent hunting presence of golden eagle and hen harrier, the confidence of fox and pine marten and red squirrel; the spring and summer omnipresence of warbler song.
In this heady embrace I have adopted a few locations as outdoor "studios", where I turn aside, sit, practise stillness, drink in the comings and goings and stillnesses of nature at work and try and write them down. So I have a good idea of what to expect, of how the seasons treat the landscape. That idea does not include gannets.
There was no mistaking that silhouette this time, three very young, very dark birds, not the blazing white of the mature adults. Anyone who has seen gannets over the sea will know their characteristic flight is direct and masterful. Yet here were three young birds apparently baulking at the sudden exposure to the free-flowing wind along the modest length of Loch Venachar. It almost looked as if they were trying to tack against it, veering and climbing and wavering and briefly back-tracking.
But then instinct – or some component of gannet DNA or some facet of teaching from their parents – kicked in at the critical moment. Abruptly they reformed into a file of three, headed for the loch, made an orderly descent at its eastern edge to a few feet above the surface and flew purposefully west. They looked like gannets again.
What happened when they got to the far end of the loch was hidden, but it links via a stretch of river and wetland with nearby Loch Achray, and if they held their nerve they were on course for Loch Katrine too, and – perhaps – ultimately the head of Loch Fyne. From there, it's a straight journey to the Firth of Clyde and the gannet-rich waters around Ailsa Craig.
Was that their plan? Or would they simply cross the final tract of mainland beyond the head of Loch Fyne and head out into the Firth of Lorne and the ocean beyond?
My go-to reference work, the Scottish Ornithologists' Club's two-volume The Birds of Scotland, only offers this:
"…in the autumn… there is some evidence that some overland passage occurs between the Firths of Forth and Clyde, but sightings inland are rare, so seven at Loch Leven on 27 September 2004 were very unusual…"
Loch Venachar is a further 40 miles west of Loch Leven, so just how unusual was that? The SOC volume goes on: "In contrast, juveniles from the Bass Rock may reach the Atlantic Ocean by flying around northern Scotland. Others fly south through the English Channel…"
When the Forth-to-Clyde option saves hundreds of miles of travel, you'd think the centuries-long occupation of these two nesting strongholds might have evolved a more widespread knowledge of it. But there is no more out-and-out seabird than a gannet, and its every instinct must surely scream against the ever narrowing coils of the Forth, other than perhaps in the very youngest birds.
Right now, in January, only a couple of months after the big gannetries finally fell silent, the first few individuals are returning to the empty rocks from their wintering wherevers to a particular square yard of a winter-washed ledge, and begin almost at once to gather nesting material. By next month there will be hundreds, by March thousands, and all across the eastern Atlantic and the northern North Sea, low-flying processions of gannets will be homing in on such as St Kilda, Sula Sgeir, Hermaness, Ailsa Craig, the Bass Rock and a handful of other rocks of lesser antiquity in the annals of breeding strongholds.
Gannets are restless, long-haul fliers. The ocean is their home, their natural habitat; they are about as comfortable on land as swifts. When they do pitch up on our native rocks to breed, they travel prodigiously out to sea in search of food. A hundred miles is a routine distance for a foraging trip. One of the longest we know of was revealed by a tagged bird from the Bass Rock, a round trip of 335 miles. It seems like a lot of trouble to go to for a fish supper. Unless you are a gannet.
When they head out to sea at the end of the nesting season, their travels are all but limitless. Scottish birds have turned up as far north as Arctic Russia and as far south as West Africa.
Thirty years ago, when I wrote my first book, St Kilda, and spent two weeks camping there, I hitched a lift on a yacht out round Boreray and the great sea stacks of Stac Lee and Stac an Armin. I don't have much reason to blow the dust off that old book now, but I took it down to reacquaint myself with the only time I have eyeballed gannets in their capital city. I quote, with a vague shudder of recognition – I was being repeatedly and uncompromisingly sea-sick about every 15 minutes:
"There comes a moment… that Stac an Armin hoves mesmerisingly into sight: tall, black, raked at an uncanny angle, a jaunty witch's hat, but so close now that its true scale is an almost physical shock. Its summit leers down 644 feet at the sea, and it wears like an Everest snow plume a high-flown streamer of gannets…
"The gannets suddenly lose their nerve and come at you in shoals. Something like 50,000 nesting pairs and uncounted thousands of hangers-on. The birds spiral up and up, perhaps 1000 feet, equally probably much, much more. The sound and the sight and the smell of the world's oldest and largest gannetry amount to an experience to rival anything which might occur in a lifetime's explorations of the wildest places on earth."
The memory resurfaces, potent as 100-proof Talisker. My bafflement at the three west-making gannets over Loch Venachar is complete.
You can read more of Jim Crumley's Scottish wildlife columns online here, and each month in The Scots Magazine.
Subscribe to The Scots Magazine today for more from Jim Crumley >>