Jim Crumley
---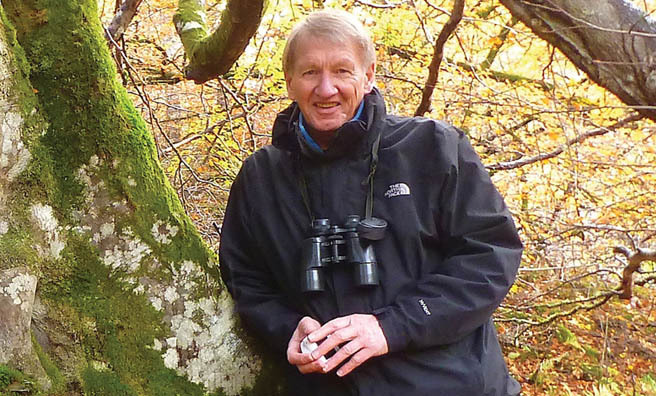 "The Scottish landscape is my bedrock.
Almost everything I write begins with the landscape, and that becomes the stage set where the writer performs."
Introducing our wildlife expert, Jim Crumley.
As befitting the position of Scotland's top nature writer, Jim is never more at home than when sitting alone in the more remote parts of it, immersing himself in his surroundings and listening intently for the calls of the wild – whether a badger's scuffle in the undergrowth, or an eagle's chilling cry from the thermals above.
In each month's issue Jim sings the praises of one of the many birds and beasts that share this landscape with us, and to celebrate his 100th feature for The Scots Magazine we've put a few of his past features online for a new generation to enjoy – you can find these on the right.
Although he's far more comfortable talking about nature than himself, we persuaded Jim to give us a glimpse into the mind behind the binoculars.
A few words with Jim…
What was your earliest wildlife experience? Did it happen by chance or had you planned it?
Age 3 or 4, in the garden of my parents' Dundee prefab, watching hundreds of geese flying up from Invergowrie Bay and right over the roof. So not really planned, no. But the sight and sound is still with me.
Where and when was the interest sparked off?
Right there and then. We lived on the last street in town between the fields across the road and the Balgay Hill. There were the geese, then there was my first skylark's nest in the fields, then looking for nests in the Balgay. I owe that place everything. The fields are long gone, but the Balgay is intact. And as both my parents and three of my grandparents are buried there, it is still a potent place for me whenever I walk there, which is often. The only organisation of which I am a member is Friends of Balgay.
Are you more or less self-taught or did you have a mentor to give you tips, hints and direction?
More or less self-taught just about describes it perfectly. My uncle, Stuart Illingworth, was an early influence and gave me my first bird book. And the first thing I ever learned to read for myself in The Courier was Colin Gibson's Nature Diary. I loved that. Years later, when I started to work in The Courier I met him a few times. It was like meeting Roy of the Rovers!
You've worked with five Scots Mag editors. Who commissioned your first piece and how did that come about?
Maurice Fleming was the editor, and I suppose it must have been in the late sixties. I can't remember what the article was, but I was working as a newspaper sub-editor and flexing my youthful writing muscles in my spare time, sending out all kinds of nonsense to all kinds of editors, and amassing a collection of rejection slips. Maurice eventually said yes to something and I was walking on air for a about a month.
Had working for the magazine always been an ambition/intent?
Yes, certainly for as long as I had been entertaining notions of being a writer (these began seriously when I read Ring of Bright Water, aged about 18). The magazine was always around the house, and I was familiar with it from childhood…Tom Weir's work in particular! It was always something to aim for.
In 100 articles, have you covered almost every species of wildlife in Scotland? Which experience thrills/has thrilled you the most?
I think I'm a long way from having covered every species. I don't think I've written about fish at all, and I've barely scratched the surface of butterflies, dragonflies, flowers and trees. I do keep returning to my favourite species, especially swans, otters and eagles. It is difficult to see past golden eagles when I think of being thrilled. In the very first of these articles I wrote about seeing one being mobbed by two ravens which had failed to see the second eagle! It hit one in a vertical dive so that the raven fell to the ground, then it caught the second raven in the air, then went down for the first one, and flew off with a raven in each foot. I have also seen one fly backwards!
You moved home from Balquhidder to Stirling. You're still very central but do you miss the easy and immediate access to the countryside?
I had moved from Stirling to Balquhidder in the first place, and eventually moved back for family reasons. I do miss not being able to open the door and just step out into wild country, a view of mountains in the window, or hearing the sound of the red deer rut or migrating swans drifting in the window at night, that kind of thing. But the Highland Edge, that overlapping of Highland and Lowland landscapes, has always been a fertile zone for my writing, and really I've only moved from one side of that Highland Edge to the other.
What's your most disappointing experience in wildlife watching?
Wildlife never disappoints me. The reaction of some people towards wildlife, however, is a source of many disappointments. Farmers shooting beavers and wrecking their dams on Tayside is just the most recent.
And your most rewarding?
For the better part of 30 years I watched and wrote down the lives of an extraordinary pair of mute swans that nested on a reedy shore of a Highland loch. I became a part of their landscape. Both birds lived to be around 30 years old. I learned so much from them, and from their fellow travellers – the other creatures with which they shared their landscape.  They both died within a couple of years of each other, and I could never quite sustain the same pitch of involvement with the birds that succeeded them. I also had three weeks in Alaska courtesy of BBC Radio 4: I got very close to grizzly bears and humpback whales and it changed my nature-writing life.
Music plays an important part of your life? Is this a nice way of relaxing?
I love music, especially jazz (I play a wee bit of jazz guitar), but also classical and folk, and I spent the '60s trying to be Hank Marvin (it didn't work out too well). Some of it is relaxation, but I still work quite hard at my guitar playing.
What's your favourite food when out and about? Any culinary delights in your rucksack…?
I love venison casserole, in fact venison anything. And I could kill for a good plate of stovies. Seafood if I'm on the coast or the islands; there's a wee shed at Crail harbour, and a slightly bigger shed at the Oban ferry terminal where the fresh crab rolls are something else. But anyone looking for culinary delights in my rucksack will go home empty handed. But once when I was out alone in Sidlaws as a teenager I met an old boy with a face the same colour as his boots. He asked me if I liked going alone, and did I know about the morale-booster pocket? I said yes, and no. So he showed me the morale-booster pocket in his rucksack – it was full of custard creams. So occasionally I take some custard creams, and sometimes a very small hipflask with a drop of Talisker or Highland Park within, just to drink to the health of the landscape.
Ochils, Grampians, Perthshire mountains, Cairngorms? Where's your favourite haunt?
I have favourite moments rather than favourite haunts, but if I had to pin anywhere down, I suppose that over the years  I have gone to Skye, Mull and the Speyside Cairngorms more than anywhere else beyond my immediate surroundings. That has never really changed. I like landscapes of grand gestures and these fit that category better than most.
If you had to be marooned on a Scottish island of choice, which one and why?
I imagine you're ruling out Skye, given that it has a bridge? I have often thought that I could easily live on the west coast of Mull, somewhere like Kilninian. If you were envisaging something a little less populated, or even unpopulated, I was entranced by Pabay in the Western Isles a few years ago. Why? In both cases, the raw beauty of the place.
Are there any young up-and-coming nature writers about?
If there are let's run them out of the country! Seriously, I don't really have my finger on the pulse of who's coming along behind. I did recently read a proof copy of a forthcoming first book about Morecambe Bay called The Gathering Tide by Karen Lloyd, and was very impressed by some of the writing in that. She studied under Kathleen Jamie at Stirling University, and it shows. But I'm not sure that nature writing is ideally a young person's field. The required stillness gets in the way, and you tend to learn that with the years.
Ideal scenario after a hard day in the hills?
A cool beer by a warm pub fire, a drive on empty roads through moonlit mountains with a generous dram of a good whisky (see above) and good food at the end of it. Is that enough cliches for you…?
Any advice for someone who'd like to embark on a career writing about and learning about wildlife?
Oh no, I hate this question! You really, really have to want it. You have to be prepared to put up with a lot of your own company. You have to accept that the chances of making anything like a reasonable living at it are not high, but perversely, doing it full time is the only way to be the best nature writer you can be. If you have that in your locker, then the non-financial rewards can be immense. I knew none of that when I started out.
 If you weren't doing what you're doing now, what would you want to be doing?  That is, which other profession?
Jazz guitarist, architect, painter maybe (the obstacle in the way of the last two is a serious lack of drawing ability).
I'm stuck at a desk in front of a PC. Your office is the great outdoors. You must feel somewhat lucky and privileged.
I never thought of wild landscape as "office"!  And bear in  mind that it's where the raw material is, and although I try and make as many notes as I can while I'm out there, I still have to do the actual writing of the actual books and articles within four walls, and (alas!) on a computer. But lucky and privileged – yes, absolutely, both of these things.
Lastly what is your maxim in life?
I stole it from the American architect Frank Lloyd Wright: I do believe in God but I spell it Nature.
You can read a selection of Jim's wildlife columns online here, and each month in The Scots Magazine.

If you're keen to read more great articles from Jim, why not sign up for a subscription? Not only will you get every issue delivered straight to your door each month but you're guaranteed to save on the annual shop price! To find out about our fantastic offers available just click the link below