A Kaleidoscope Of Whisky
---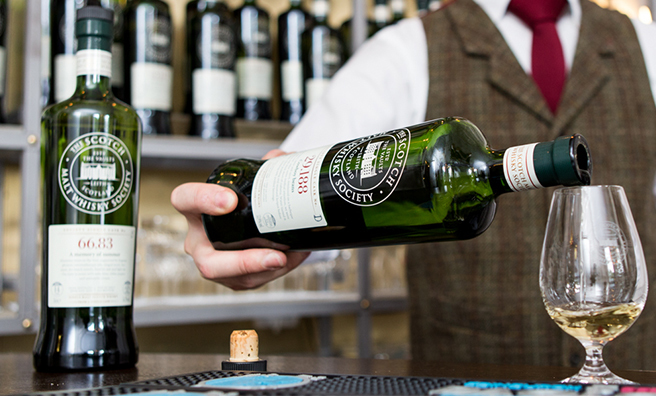 There's a kaleidoscope of colour – and there's
also a kaleidoscope of whisky!
It's the latest venture to fly the flag of Scotland's favourite tipple, and can be found on Edinburgh's Queen Street.
Kaleidoscope,a £300,000 project by the Scotch Malt Whisky Society, opened its doors earlier this month to become Edinburgh's ultimate whisky destination, welcoming everyone from novices to connoisseurs to explore its ever-changing spectrum of whisky flavours.
More than 200 rare single malt whiskies and other spirits are available at the bar, with the selection changing regularly throughout the year.
The Society uniquely releases a new selection of its rare single cask single malt whiskies every month, providing Kaleidoscope with a constantly changing menu of choices to explore.
A limited range of extremely rare proprietary whiskies carefully selected for the SMWS by a special guest curator will also be available at the bar.
I popped in between Festival concerts to see the set-up at close hand and was mightily impressed. SMWS member Andrew Park welcomed me and first of all gave me a 40-question test to determine my personality when it comes to whisky.
This psychometric test is the result of studies carried out by Doctor Adam Moore, psychologist and research scientist based at the University of Edinburgh, as you can find out in this article.
My result – "You are the perfect norm and your perfect whisky should be juicy and have the essence of oak and vanilla. You have a moderate character with no clear dominant personality trait."
Middle of the road, that's me!
It was Andrew's task to let me blind taste three whiskies that characterised the above. I don't have the palate to identify each one but I do know a good whisky when I see/taste one. No clues on labels though. Each malt comes with a number – 64.64, 39.124 and 27.110.
Kaleidoscope is the perfect stop-over for fans of uisge beath, with bar and dining room for public use and private lounges for members.
Jan Damen, Operations Director for the Society, said: "Transforming our venue with this top-to-toe makeover and opening our new Kaleidoscope Whisky Bar is a hugely exciting step in the history of The Scotch Malt Whisky Society.
"The Society is all about exploring the spectrum of flavours within the whisky category and we'll have one of the biggest selections of rare single malt whisky in the country. More importantly, our selection will change constantly as we release new whiskies each month, providing guests with new flavours of whisky to discover each time they visit."