Karen Dunbar's Brand New Role As Lady Bracknell!
---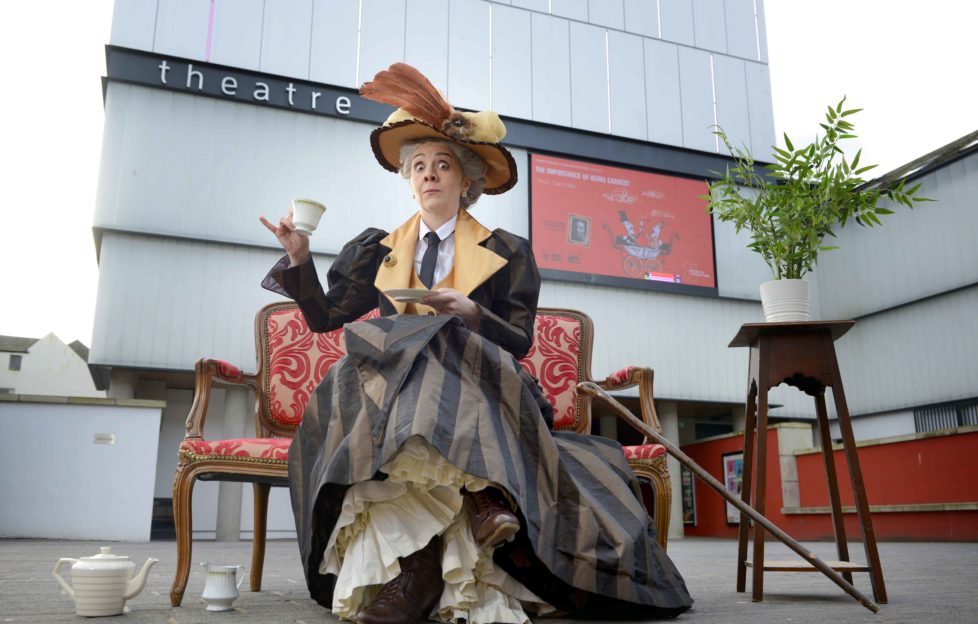 Picture credit: Colin Hattersley Photography - www.colinhattersley.com
Scots comedy star Karen Dunbar is poised to start rehearsals for Perth Theatre's production of The Importance of Being Earnest, we sit down for a chat with her…
This production is now postponed
Getting into character as Oscar Wilde's comedy icon, Lady Bracknell, Karen Dunbar reveals how she plans to make the role her own by drawing on some of her famous TV roles, using her own accent and taking inspiration from some "well-kent" faces!
"Expect a vast of plethora of words, wit, wisdom and big dresses! It's a fantastic role – a really good challenge for me. I'm learning my lines just now and the words are nice and crunchy. It's very fast and it's very cerebral. And a Scottish Lady Bracknell feels like a head start in terms of comedy. My accent gives her a chance to really punch it out and really bring a lot of light to it. She's a very strong character. But I'm also finding the more that I read into it, there's a great warmth to her too.
"That's your natural Scottish characteristics there: strong and warm – as long as you don't have to go outside."
Karen is best known for TV classics including Chewin' the Fat, The Karen Dunbar Show, River City and Rab C. Nesbitt. She recently completed a run as God in Still Game in SSE Hydro!
"There'll always be a bit of my TV characters in anything I do because those characters are all different parts of me but Lady Bracknell is such a unique persona – I think she'll stand out from the old crowd," Karen admits. "Of course, Lady B is a big snob but I think she's quite warm at heart and also has some deep insecurity. This vulnerability along with her wit gives a wee crack into liking her and maybe even identifying with her. So far, I'm pitching my Lady Bracknell somewhere between Mary Berry and Ena Sharples. We'll see what comes oot!"
She has also played a wide variety of stage roles from Shakespeare to stand up, as well as regular panto appearances in Glasgow King's Theatre.
"Expect a vast of plethora of words, wit, wisdom and big dresses!
And after her stint in the extremely popular Calendar Girls last year, we do wonder if she has developed a preference for the stage rather over television productions. She says, "It's a tough one. Stage is instant. The audience is live. They're there. You can hear them, you can nearly touch them… you can sometimes smell them – big waft of Channel perfume. There's a real buzz and adrenaline rush about that.
"And in theatre you can't say cut. You've just got to chunter on. But you do get to refine your performance each show. Then, telly is great as well because it usually reaches so many more people. So there's a real chance to build on that audience."
Supported by Bright Spirits, with match funding from Culture and Business Fund Scotland, The Importance of Being Earnest is directed by Lu Kemp and will be running in Perth Theatre from Thursday 5 until Saturday 21 March.
Grant O'Rourke will play Algernon, Amy Kennedy plays Cecily, Caroline Deyga is Gwendolin and Daniel Cahill plays Jack.
Karen believes the play has remained relevant after all of these years simply because good writing it timeless. She says, "There's class distinction within this play, which whether we like it or not, will always be relevant. I mean, things have changed an awful lot, but it's certainly not eradicated.
"It's also about love – young people in love and older people thinking that they know what is right and what is wrong with love – which is a load of fudge, codswallop, keich.
"And because it's done with Wilde's brilliant humour and depth, it makes the story not only hugely entertaining but also thought-provoking and a good talking point. It's got something for us all: huge laughs, smart dialogue, big costumes and an even bigger heart!"
Karen Dunbar will be performing The Importance of Being Earnest at Perth Concert Hall from March 5-21
Tickets are available now CLICK HERE >>