Landward, Ho!
---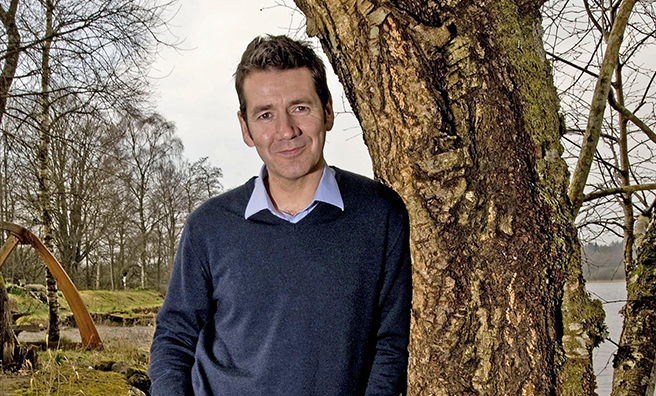 Garry Fraser catches up with Dougie Vipond
One of television's most popular programmes returns to our screens this Friday night.
Landward was first screened 40 years ago, produced to replace the agricultural programme Farming, and while rural affairs play a leading role in the programme, landscape, wildlife and nature also feature to a great extent.
Current presenter is Dougie Vipond, who must be one of BBC Scotland's most familiar faces, popping up in a variety of roles. To those with a more musical taste, he's drummer with Deacon Blue. This is a landmark year for the band, who are celebrating their 30th anniversary.
In fact it's something of a celebratory year, with Dougie turning 50 in October. But he doesn't take anything for granted.
"I wake up every morning
and kind of pinch myself"
"I think I am incredibly lucky at what I do between working with Landward and working with the Adventure Show as well," he says.
"I also work in the sport department presenting rugby. What with that and being part of Deacon Blue, I wake up every morning and kind of pinch myself. I am very, very lucky."
The original Landward was presented by Ross Muir, and Ken Rundle and Nick Nairn both held the reins until Dougie took over in 2009. Nick appears occasionally as a reporter alongside regulars Euan McIlwraith and Sarah Mack.
"I think the major reason I think that Landward is so successful is that we tell stories about people who are clearly passionate about what they do," continues Dougie.
"I think Scottish people are very proud of their country and of the scenery, the landscape. Maybe not the weather, though!"
"…the beauty of our country
into your living room…"
Many viewers will be envious of Dougie, who can combine his job with visiting some of Scotland's most beautiful countryside.
"We are driving something like close to 20,000 miles a year. This series takes me to North Ronaldsay for the first time and to Knoydart, where I haven't been to for 20 years."
"Landward is one of those programmes that puts the beauty of our country into your living room and I think that is something that makes it ever popular. Everyone has got a story to tell and I think that the great challenge of the programme is to make sure those stories are told and told well.
"In Landward is there is something for everybody in every programme."
"It has its down-side, though. We were doing a story on Shetland Ponies and how people could learn how to ride them. There was one pony in particular who just didn't like me at all and who was determined that I wasn't going to get the place of the camera right. It would just come in and disrupt things!"
"But in every series, there is always a different story with a different angle and different people to meet. It is wonderful fun!"
---
Catch it on Friday!
The new series of Landward starts on BBC One Scotland on Friday, Sept 23rd at 7.30pm