Let Allan Stewart And His Pals Entertain You!
---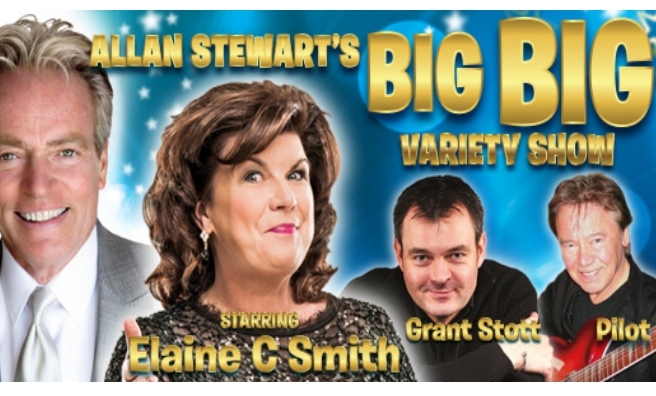 Variety is back in fashion! Sing, laugh and even dance along at Allan's Big Big Variety Show.
If variety is the spice of life, Allan Stewart and his pals are going to be hot, hot, hot when they appear in Edinburgh from March 28 until March 4.
Allan Stewart's Big Big Variety Show is back at the King's Theatre this spring with a stellar line-up promising big names, big laughs, big songs and big fun!
In a world exclusive, Allan Stewart will be joined by fellow Scottish stage legend Elaine C Smith, giving audiences the first ever opportunity to see the two comic giants perform together.
A blast from the past
There's a blast from the past from Scottish rock band Pilot, formed in 1973 in Edinburgh by David Paton and Billy Lyall and much loved by 'girls' of a certain age. Pilot will be performing their 1970s hits 'January' and 'Magic' – and if you're lucky, you'll be there on a night when I'm not in the audience, singing along to my heart's content!
Coatbridge comic Edward Reid, star of 'Britain's Got Talent'and the second best panto dame I've ever seen at Arbroath's Webster Theatre (Mr Gibson, my primary 5 teacher, still holds the crown!), brings his unique mix of comedy and music to the line-up.
Showing his great versatility in style and spot on comic timing, Edward scooped Radio Forth's Best Fringe in 2012 for his one-man show 'Living The Dream One Song At A Time' and was awarded Bighearted Scotland's Entertainer of The Year in 2013.
Playing it for laughs
Allan's partner-in-panto Grant Stott will be back at the King's playing it for laughs in the McRobert Brothers sketches with Allan Stewart.
"We've become great friends through meeting up every year for the panto at the King's," said Allan. "It's great to have another excuse to be on stage with my pal Grant."
For more information, and to book tickets, click here.