Links With Nature
---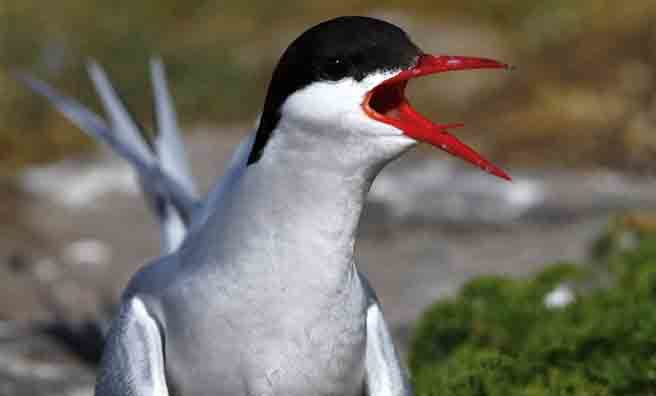 An Arctic tern - black, white and electrifying scarlet (Pic: Alamy)
I have reason to remember that tee shot.
Kilspindie Golf Course at Aberla­dy, East Lothian coast, a beautiful early July day, sunlight bouncing off the deep blue Forth estuary, a fairway separated from the oblivion of the rocky shore by no more than a couple of yards of rough and a half-hearted cliff.
I selected the 3-wood for position rather than the driver for length, for although power was never my problem on the golf course, my driver occasionally encounters navigational difficulties. Besides, I have what is known variously as "a right-to-left swing", "a fade", "a slice", or "my God, you missed the next fairway on the right too", and given that there was no "next fairway" on the right but rather the domain of gannets, eider ducks, yachtsmen and the occasional pod of killer whales, I selected the 3-wood.
The air was an invigorating blend of warm cut grass and sea-salt
It faded. Then, without becoming a whole-hearted slice, it leaked a little further right than a fade would suggest. It did still bounce on the fairway, and a perfectly respectable distance out there, but the bounce was "unkind" as links golfers like to say when they mean "sideways", and it seemed to settle in the rough. Still, it wasn't on the beach, it wouldn't be too hard to find, and I have strong wrists so a good wedge might yet retrieve the situation. The sun was warm on my back, the air was an invigorating blend of warm cut grass and sea-salt, and prime summer lay smiling all around. I was optimistic.
I reached the spot where I judged the ball had abdicated its responsibility to the fairway. I padded around for a few moments, wedge in hand, when the rough suddenly exploded and began screaming in my face. This, I thought, doesn't happen at St Fillans. (St Fillans, in landlocked Perthshire, is where I have played most of my golf these last dozen years or so, and while I have occasionally disturbed a resting brown hare in the rough there, not once did one explode and scream in my face.)
This particular Kilspindie explosion had colours – black, white and electrifying scarlet
This particular Kilspindie explosion had colours – black, white and electrifying scarlet. Only the scarlet part screamed. I took a step back, the better to focus on my attacker, but it simply advanced the same distance as I had retreated and hung in the air two yards from my face, exploding and screaming.
I have met many Arctic terns but never looked into the open throat of one before. I now know that it is the same vivid scarlet shade as an Arctic tern bill, and that it performs the same function as the bell of a trumpet: it takes the basic sound and makes it scream. I had a fleeting and ludicrous vision of an Arctic tern's innards, a coiled network of scarlet tubes and valves snaking out from a voicebox of improbable dimensions, the whole convoluted mass hell-bent on repelling the careless advances of golfers who are not always in complete control of a left-to-right swing.
I could now see the tern's nest with two eggs
It was then that I saw my ball. It had a good lie and was perfectly playable, but a comfortable stance with a wedge would have meant placing my right foot squarely on top of what I could now see was the tern's nest with two eggs.
The word "nest" was rarely more inadequately served. It carries implications of home, snugness, sanctuary. Think of "nest" and I think of a sumptuous raft of eiderdown, an osprey's tree-top bastion, a long-tailed tit's sphere of feathers, or that of a raven I once met in treeless Iceland that had built with twigs of broken barbed wire fencing and what must have been a pound of sheep's wool.
This Arctic tern, this tormentor fashioned from a perfect symmetry of angles and points, had a nest that was defined by nothing more structural than the shallowest imaginable depression on a patch of bare earth, and created solely by the weight of the bird and its eggs. There was no demarcation at all, no cushion for the eggs, no soft landing for the chicks when they ate their way out of the egg.
My playing partners and I suspended the rules of the Royal and Ancient and I was allowed a drop nearer the hole and as far away from the hovering tern as was deemed necessary for the safety of all concerned. About 25 yards, we reckoned.
Arctic terns are rare on the East Lothian shore where the hunting flocks are mostly sandwich and common terns, but further north and west, and especially in the islands, they are the true harbingers of spring, arriving from the southernmost corners of the earth in May. In Shetland, where I have witnessed their arrival, there is a morning when you meet a handful drifting low over the shallows. The next day, they are as thick on the ground as Wordsworth's daffodils, and I never yet met a Shetlander who was indifferent to their arrival.
Journey's end for a migrating tern is nothing more than a pause in a colossal endeavour
Their astounding migrations have captivated ornithologists and other biologists for years. They are thirled to sunlight as no other animal on earth. Journey's end for a migrating tern is nothing more than a pause in the colossal endeavour of its migrating ritual. In fact, it is arguable that it has no journey's end, that travel is its natural habitat and its constant destination. From the deep south of the world to the far north is the furrow it ploughs year on year, hundreds of thousands of miles in a lifetime. One ringed bird made it from Arctic Russia to Tasmania and back every year for over twenty years. Over a million miles. Small wonder they have little time for golfers' vagaries.
There is a second Arctic tern, the memory of which is etched much, much deeper in my mind and in my nature writer's life. A few years ago, I spent nine days on the uninhabited Outer Hebridean islands of Pabbay and Mingulay. It was a charmed time in which the islands slowly shrugged off a sea mist over a few days, after which the weather grew warmer and warmer, until cooling off in the sea became a daily ritual.
On the last evening before the boat came to take our small party back to Barra, I had gone for a long walk. The evening was almost still, the sea was the perfect shade of blue, such as the shade of coloured pencil a child might reach for to register the sea in one of his first drawings. A single wave was breaking again and again over an underwater reef, so that a long rolling furrow of white appeared mysteriously in the midst of that oceanic plain of blue, faded away, and then recreated itself in its own image, an eerie cycle of constant resurrection with its primitive and barely audible rhythm.
Then a single Arctic tern turned up. If 50 or 500 terns had appeared the mood would have been smithereens, but there was just the ocean, the ocean music in my ears, the single breaking wave, and one Arctic tern, fishing for sandeels. It was brilliantly lit, and at that moment my portion of the Atlantic contained no visible morsel of life other than that distant, vivid bird-jewel. It was never closer to me than a hundred yards, yet I think I never felt closer to another of the earth's creatures, and I never spent a richer, more contented hour, never knew a deeper peace.
I wondered how much that tern registered of the raw beauty of the hour, how the world looked and felt right there, right then.
"This was my world, the cradle of my species"
I thought of Gavin Maxwell: "This was my world, the cradle of my species, shared with the wild creatures," he wrote in Raven Seek Thy Brother; "it was the only world I wanted, and I felt that I had no place at a writing desk…"
He went on to define the word "extinct" as describing an essential mental attitude as much as it is a term for the vanished creatures of the earth such as the Dodo. Humans should not depend on scientific revelation to avoid the destruction of our species. "The way back cannot be the same for all of us, but for those like myself it means a descent of the rungs until we stand again amid the other creatures of the earth and share to some small extent their vision of it."
Thinking about all that now, I am not surprised that an Arctic tern with its surely unique vision of the world would scream in the face of the intruder who thought he might solve his dilemma with a pitching wedge.
Find Jim at: jimcrumley@wordpress.com
---
Arctic tern facts
The Arctic tern is a seabird of the tern family Sternidae
The birds return to the UK from their Antarctic winter break in May/June
There are approximately 53,000 breeding pairs in the UK
Wingspan is around 25-30 inches