Live Cameras At The Scottish Seabird Centre
---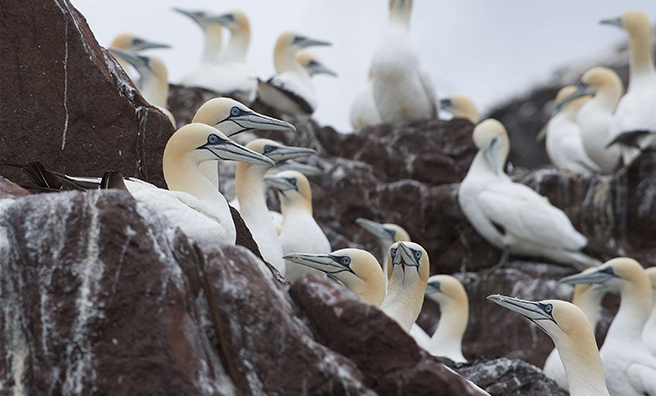 Get up close to gannets – from your own home!
Live, interactive cameras at the award-winning Scottish Seabird Centre, North Berwick, now allow visitors and online users to zoom in on amazing wildlife in its natural habitat.
Footage from 14 remote cameras scattered around the Firth of Forth, are being regularly posted online, with live streaming here from a camera on the world-famous Bass Rock.
It's your chance to see, from the comfort of your own home, the world's largest colony of Northern gannets on the Bass. The Isle of May National Nature Reserve has the biggest puffin colony and the biggest grey seal colony on the east coast of Britain, too.
Zoom In On The Action
Inside the Scottish Seabird Centre itself visitors can enter the Camera Zone to control the cameras, and zoom in on the wildlife. Look out for peregrines in the Findra Zone, seals at Dunbar, and keep up-to-date with the SOS Puffin Project at Craigleith.
There's a chance to further experience the wonders of the Firth of Forth on a range of boat trips, too. The RIB and cruise boat that take in the islands of The Lamb, Craigleith and the Bass Rock, with fantastic photo-opportunities along the way.
You can also go on landing trips to the Isle of May, with guided tours and specialist photographic trips available.
The Scottish Seabird Centre has the exclusive landing rights for the Bass Rock – for wildlife and photography enthusiast this is a once-in-a-lifetime experience.
After all that adventure, there's fantastic local produce in the Seabird Café, with a stunning seaside deck that looks out onto the Firth of Forth and the beaches of North Berwick.
There's also a gift shop which is full of fair trade and locally produced items, which provide the perfect memento from your visit!
Visit the Scottish Seabird Centre Website for more.