Lorraine Kelly | Success On Her Own Terms
---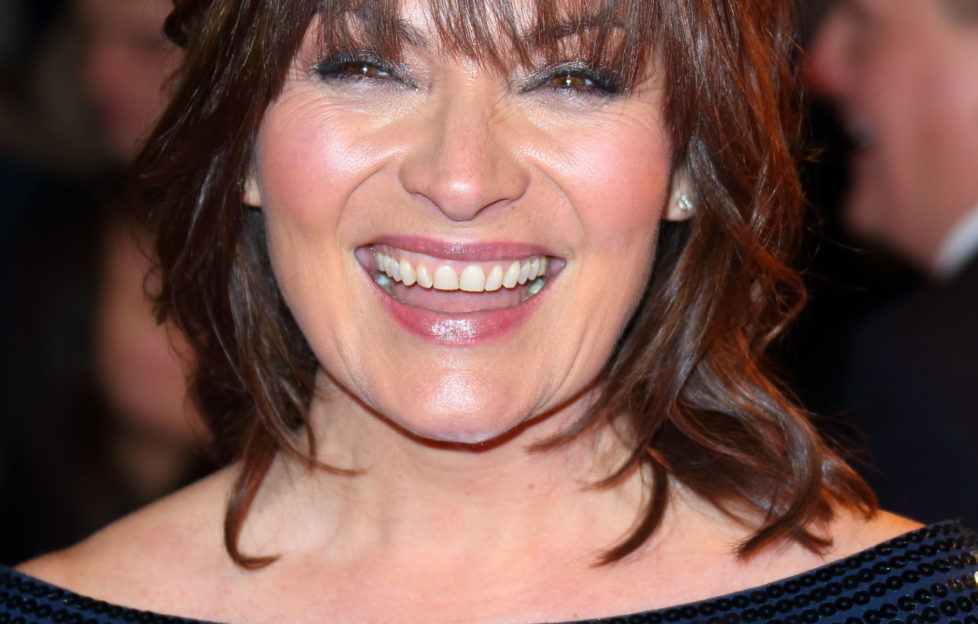 Glamorous Lorraine at the National Television Awards
Journalist Lorraine Wilson has a blether with the queen of daytime telly
It was getting embarrassing. Almost everyone I know in Dundee had met Lorraine Kelly, the city's most vocal ambassador and arguably the most popular woman on British television.
We had been in the same room on many occasions, but simply wandering over and saying, "My name's Lorraine too, I also support Dundee United and my mum wishes I was you," didn't feel like a great opener.
"Call security" would have been the appropriate response.
So the chance to sit down and "have a blether" was eagerly anticipated – not in Dundee but in London, just after her morning TV stint.
My first sight of Lorraine Kelly, she's walking down the corridor towards her dressing room, carrying the red skyscraper high heels that were obviously discarded in favour of much comfier ballet pumps as the end credits rolled.
Early mornings are second nature now
For a woman who had been at the studios for six hours she looked incredibly fresh and was relishing getting to a Zumba class later in the day. The early mornings are second nature now. Lorraine's authoritative reporting in the mayhem of the Lockerbie disaster in 1988, while she was TV-am's Scottish correspondent, brought her to the attention of the London bosses and she was given her first job there, presenting the news hour from 6 to 7am.
Since then, as the station became GMTV and now that ITV has taken over, she is still seen as the person we want to wake up to every morning. Her home life with husband Steve and daughter Rosie, now studying journalism in Edinburgh, has always been her priority, but she's valuable enough to ITV to have flexibility in how she works.
"Every extra minute in your bed counts!"
"I have the best of both worlds really," she says. "I do love London, but my tiny bolthole here is in Westminster, close enough to the studios to make the journey only about 15 minutes by car. And believe me when it's 4am, every extra minute in your bed counts!"
On Thursday after the show, it's off to City airport and back to Dundee until the late flight back on Sunday, when the flight passes quickly while she does her homework on Monday's guests.
"There used to be a flight that left London at 10.30am. I would come off air at 9.30am, get the flats on, get on the back of a motorbike and hold on tight. We'd get to City Airport at about 10am and they'd be calling the flight as I was going through security. I had to run to get on that plane, but it was so worth it. I'd be home by midday."
Now the afternoon flight gets her home to Steve by teatime and, aside from her charity commitments and a Sunday radio show with her showbiz correspondent (and old pal) Ross King, the weekend is hers to relax with Steve, Rosie if she's home and Rocky the Border terrier.
"We're so lucky in Dundee"
"It just feels so different when I get home. We're so lucky in Dundee – there's so much to do. It's a great place to live and it's looking so good now."
Lorraine was born and raised in Glasgow, of course, with a move to East Kilbride in her teens, where she began her journey in journalism with the East Kilbride News. She was introduced to the delights of Dundee by Steve, a freelance cameraman whom she met when he worked at the Scottish TV-am bureau.
"The great thing is, Dundee is becoming such a confident place. I think it had the stuffing knocked out of it in so many ways. The atrocities that happened; knocking down some beautiful buildings – it was just shameful that it was allowed to happen."
"I actually phoned the council and volunteered to blow up Tayside House!"
One building that she wasn't sad to see disappear was Tayside House, a soulless office block now reduced to rubble but regarded as an architectural eyesore for decades.
"I actually phoned the council and volunteered to blow it up! But it had to be dismantled because it was over the railway line." She sighs.
Somehow, in between her TV, radio and column writing work, she has managed to travel to the farthest reaches of Scotland with Steve.
He has put his still photography skills together with Lorraine's words to create a book which features her favourite places in Scotland.
"What a brilliant time we've had doing it. We even managed to get to St Kilda, which has always been a dream of mine.
"The Orcadian accent and the words they use are just beautiful"
"One of the things that came through wherever we went was the strong sense of identity that every area has. It's one of the things I love about Dundee. The sense of humour, which is very dry. And the dialect – I love the dialect. We saw the differences all over. The Orcadian accent and the words they use are just beautiful, too. These are things that we all need to hold on to, no matter where we are in Scotland."
Her approach to diet and exercise is typically level-headed and obviously works, judging by her appearance, which is incredibly youthful (she's 60, with a birthday on St Andrew's Day).
"My mum looks amazing!"
"It's the genes," she says. "People are very kind and I say I look good for my age, but my mum is in her seventies and looks amazing! All the women in my family live long lives."
Her exercise is walking, Pilates once a week and her new favourite, Zumba, after being persuaded to try a class by her best friend while they were on holiday in Spain. "It's really the only exercise I've ever enjoyed! And I really don't live off lettuce. If I want chips or chocolate, I'll have them.
"Because I'm on my own from Monday to Thursday and I'm not a good cook, I'll maybe make a huge pot of soup and live off that. When I go home at weekends it's different. Steve is a fantastic cook so I really do eat then. It's porridge here for breakfast but in Dundee it's the works – bacon, black pudding, poached eggs, toast… I love it."
Lorraine Kelly is a rare person in television, not reaching for the next rung of the fame ladder.
"I'm not someone who wants to do a Saturday night show desperately – it really doesn't appeal. On a Saturday I'd rather be at home. I would like to write more. I'd like to write fiction, but you don't dabble in that. That's a proper job. If you want to write a proper book for people to read and love, you have to give it all of your time. I just can't give 100% to a book like that just now.
"It was mind-blowing stuff"
"My job has so many perks. Put it this way, how many people have been up in a fighter jet? I was given that chance by RAF Leuchars and it was mind-blowing stuff."
Even though her childhood in Glasgow's Bridgeton and the Gorbals was pretty tough financially with young parents, money has never been a huge motivating force for Lorraine Kelly.
"I really haven't done anything just for money. They asked me so many times go on Celebrity Blah Blah… In the jungle or something, eating a bit of a kangaroo's bum… I cannot think of anything worse.
"I have absolutely no desire to do anything like that. They all get paid fortunes, but at what cost? I don't want to learn how to Cha Cha Cha, how to ice-skate and I certainly don't want to be stuck in a house with people that I wouldn't want to spend any time with at all.
"It's not for me. I don't mind watching them, but I know that everyone who takes part is at the mercy of the editors. For 23 hours and 59 minutes you'll have been fine, but if for one minute you lose the rag, that's what they'll show.
"No-one can mess about with live TV. That's one of the reasons I love it."
Interview originally published in The Scots Magazine 2015. For more great interviews pick up the latest issue of The Scots Magazine. In the shops now or order online by clicking here.
---
Key Lorraine Kelly Facts
Born in Glasgow's Gorbals, November 30, 1959
Later brought up in East Kilbride
First journalism job at The East Kilbride News
Honorary colonel of the Black Watch cadets
Twice rector of Dundee University