Bla Bheinn Under The Blue Moon
---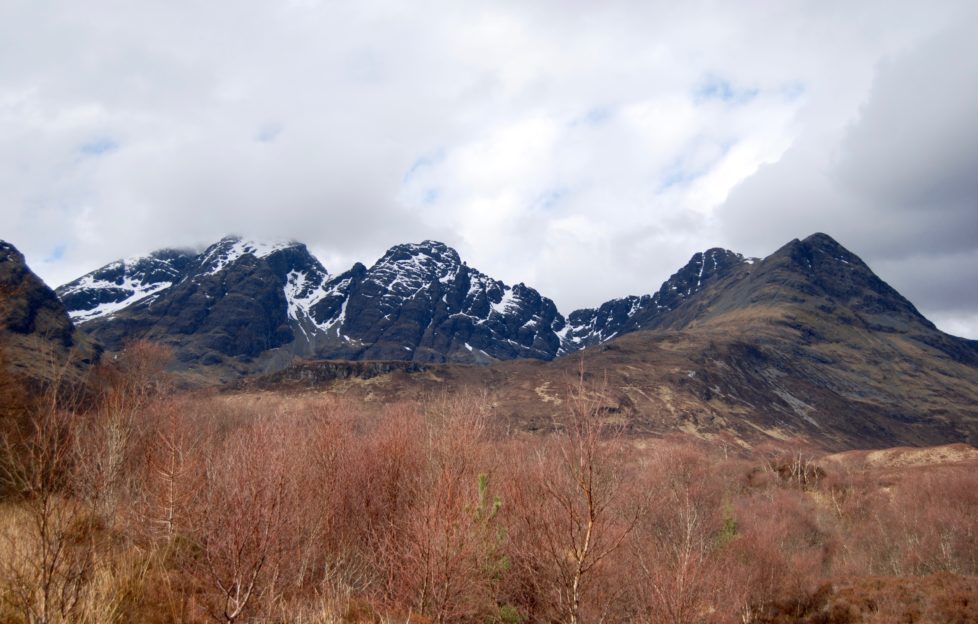 March 31 saw 2018's second Blue Moon and a climb of the blue mountain for Alan Rowan, who was fairly blue with cold himself by the end of it!
MIDNIGHT in Skye. I'm sitting on the shores of Loch Slapin watching the full moon drifting lazily through patchy sheets of cloud.
It's the second Blue Moon of the year, and I'm heading for a night ascent of Bla Bheinn, the blue mountain.
By 2 am I was heading through the trees by torchlight, and sitting an hour later by the stream at the mouth of dark Coire Uaigneich watching the moon spotlighting the high col. It was still with me on the confusion of the scree path, highlighting the huge gashes along the ridge.
I reached the first of the snows and the crampons went on. A few minutes later I was engulfed in white and confusion – the mist had closed in. The cold became more pronounced, the angle of ascent suddenly much more serious. I seemed to be rising vertically and the snow underfoot was as solid and uncompromising as iron.
Nothing could be seen ahead, and nothing behind. I know Bla Bheinn well, but I could have been anywhere. I have never felt so intimidated on any mountain.
My watch had died, overwhelmed by the cold, my phone battery likewise. Even the camera was flashing red, rendered useless.
I continued gingerly, making sure every step was planted firmly. When I finally reached the trig pillar, I felt like kissing it. Except my lips would probably have become welded to the stone. Explain that one to mountain rescue!
It was too cold to hang around, and there was no chance of a moon view or a sunrise. I front pointed my way down at times, a mental security blanket. When I finally came out of the snowline, the morning colours were muted. The distant sunrise was just a brief flash, the mountain behind me still buried in cloud and iciness.
It hadn't been the night I had hoped for, but it still felt like a huge victory.